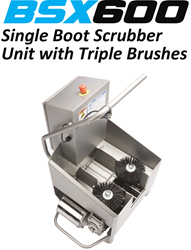 Nevada City, CA. (PRWEB) December 07, 2016
Food processing sanitation specialists, Best Sanitizers, Inc. is introducing food processors to their boot scrubber with a new instructional video. In the video, the BSX600 Single Boot Scrubber Unit with Triple Brushes demonstrates how easy it is to reduce cross-contamination from footwear. The BSX600 is a wet, single boot scrubber. The user activates the system by placing one foot at a time into the unit and activates the system by grabbing the hand rail. Two rotating side brushes and one rotating sole brush clean the boot while cleaning solution and water is sprayed onto the brushes through a stainless steel venturi dilution valve and metering tip to provide the desired PPM. Alpet® No-Rinse Quat Sanitizer is recommended with the BSX600 to aid in the cleaning of footwear prior to sanitizing. Sanitization can only occur on pre-cleaned footwear. The BSX600 is ideal for tight spaces and low traffic applications. The unit is built from 304 stainless steel and features an open and sanitary design eliminating hollow spaces where pathogens can hide. This open design also makes disassembly and wash down very easy. CLICK HERE to watch the video.
Best Sanitizers, Inc. carries a wide variety of products designed to help food processing and food service companies reduce cross-contamination including, sanitizing hand soaps, hand sanitizer sprays and foams, surface sanitizers, industrial cleaners, boot scrubber units and footwear sanitizing systems. Best Sanitizers also carries the largest selection of dispensing options in the industry. Visit: http://www.bestsanitizers.com for complete product information and video demonstrations.
About Best Sanitizers, Inc:
Since 1995, Best Sanitizers, Inc. has been providing the Food Processing, Janitorial Sanitation and Healthcare industries with the highest quality hand soaps, hand sanitizers, industrial cleaners, surface sanitizers and dispensing options available. These products are used in over 9,000 U.S. food processing facilities. Best Sanitizers was the first company to achieve an E3 rating for an alcohol-based hand sanitizer, the first to achieve a D2 rating for an alcohol/quat-based surface sanitizer, and continues to explore new and innovative ways to deliver hand hygiene and surface sanitation solutions.