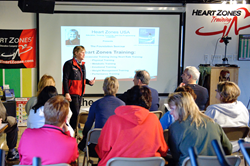 The lectures alone are worth the cost and time invested in Winter Training
Pittsburgh, PA (PRWEB) December 09, 2016
Winter Training is nothing like the fad that has taken the indoor cycling world by storm over the last few years with Soul Cycle, Flywheel and other programs that are more about using the bike as an aerobic piece of equipment than preparing riders to become better cyclists outside. While those programs are very valuable and doing an excellent job with the fitness crowd, they aren't really preparing cyclists to ride better or be in better shape for their sport.
Consequently it's no surprise that the average outdoor cyclist does his or her own thing in the winter. For some, this can mean just hanging up the bike, and accepting the winter pounds and deconditioned body as winter's collateral damage. For the more ambitious rider, they may invest in a trainer, and set up their "beater" bike on it in the basement and do what they can to not lose too much fitness. There is however, a better way for both extremes and everything in between.
Enter Winter Training
Winter Training started in 2007 in Cycling Fusion's first cycling studio and it was such a huge success, the company began broadcasting it live for national participation in it second year. Founder Gene Nacey explains it this way: "This type of structured cycling-specific training is sorely lacking at the average health club. It represents a complete periodized training plan that takes the needed time in it's 1 hour lecture each week to educate the participants as to why this is the best way to train, and what they can expect in terms of work and results. For the average group exercise manager or studio owner to put a full blown program together like Cycling Fusion has, would take more time, effort and expertise most have available. After having our share of challenges broadcasting live, and even with on-demand streaming, we are agreeing with the call that has been made consistently to us for the last 5 years at least – that we make the entire program available for purchase so anyone can run their own program on their own time frame."
Cycling Fusion's website does supports the claim that this program has been a huge success, as there are numerous video testimonials as well as emails from many previous participants. There are multiple years of positive feedback represented from those who have attended both in person and remotely (from home while dialed into the internet broadcast) or with a local club hosting the program. While it seems like this program is targeted at mainstream health clubs and gyms, the home user does make up about 50% of their participants, so obviously it works in a solo environment as well.
Why Sell Now
Winter Training does not have to be done only in the cold months. This is a serious "foundational" type of training based on real periodized or phased work-outs. It creates such a solid foundation for any aerobic training, that any endurance athlete can benefit from this at any time of the year. Over the years this fact has not been lost on others serious about cardiovascular training, and Cycling Fusion has been asked to hold this program at different times of the years, to help jump start just about any training program. By putting the entire program on an external hard drive, the owner (individuals or commercial facilities) can decide when and where to get the most out of the training and all of the expert leaders in lectures, rides and cross training.
For more information on Winter Training you can check the Winter Training section of the company website, or contact someone from the company by phone at (844-FUSION0) or (customerservice(at)cyclingfusion.com).
About Cycling Fusion®
Cycling Fusion provides a comprehensive set of tools and services that optimize outdoor cycling with expert indoor training anytime, anywhere. With the expertise of world-class cycling coaches built into its exclusive technology, Cycling Fusion offers digital classes, virtual rides, rider educational workshops and streaming videos for indoor cyclists. It provides training, certification and session building tools for cycling instructors, and offers complete remote cycling programs for health clubs. Headquartered in Pittsburgh, Cycling Fusion's goal is to provide everything a cyclist needs indoors, to improve their riding outdoors. To learn more visit http://www.cyclingfusion.com