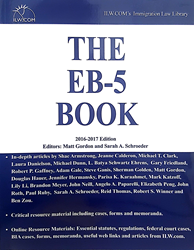 THE EB5 BOOK is the leading book in this field which has had 4 Editions over the last 6 years and served as a trusted reference work in this field.
(PRWEB) December 08, 2016
The new edition has a specific focus on enforcement and compliance and has 8 brand new articles and 3 articles updated from the previous edition to cover cutting-edge current developments.
Editors of the book are Matt Gordon and Sarah A. Schroeder. The book carries articles by many distinguished experts: Shae Armstrong, Jeanne Calderon, Michael T. Clark, Laura Danielson, Michael Dunn, L. Batya Schwartz Ehrens, Gary Friedland, Robert P. Gaffney, Adam Gale, Steve Ganis, Sherman Golden, Douglas Hauer, Jennifer Hermansky (Jen), Parisa K. Karaahmet, Mark Katzoff, Lily Li, Brandon Meyer, John Neill, Angelo A. Paparelli, Chun Yun ("Elizabeth") Peng, John Roth, Paul Ruby, Reid Thomas, Robert S. Winner, and Ben Zou.
This book covers this multi-disciplinary subject in a holistic way from the perspectives of immigration lawyers, regional centers, real estate developers and broker dealers. Unlike most EB-5 books that overemphasize China, this EB-5 book covers both China and non-China points of view in addressing EB5.
We cordially invite business press and others to attend Book Launch event in New York at ILW's EB-5 Workshop on December 16th. See details of the book release event here: http://www.ilw.com/workshops/December2016EB5.shtm. To get a Press Pass for the event, to contact the editors or to receive a review copy, please write to Shrikant Rangnekar at webmaster(at)ilw(dot)com or call 212-545-0818.
To see the Table of Contents of the book and to purchase the New Edition of THE EB-5 BOOK see here: http://www.ilw.com/books/TheEB5Book.shtm.