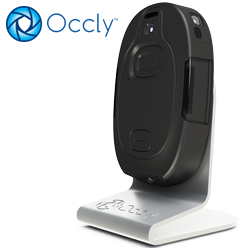 Occly can be converted into a home or apartment safety solution called "HomeWatch™".
Chicago, IL (PRWEB) December 08, 2016
There is constant news about technology and how it can help people be more efficient with work, communications, travel, and much more. While the latest mobile devices and apps are introduced daily, people rarely hear about how technology is helping with personal safety when it comes to commuting to work, bike riding, traveling, and just running daily errands. There are many inexpensive plastic keychain alarms and several mobile smartphone apps, which can only send a text to friends and family when triggered. All these "personal safety solutions" claim to be a good way to protect people in times of danger. But, who has the mindset and time to reach for a concealed device to push a button or reach for their phone and find the app when they are nervous or being attacked?
Occly is designed to be a deterrent, it comes with an easy to access panic button, 4 always recording cameras, microphone, an impact sensor, siren, LED lighting, and Bluetooth capabilities which all can be connected to a 24/7 emergency response center. Occly also has a feature-rich application with crowdsourced technologies, which alerts users of crime happening nearby and identifies bad areas on a map so you can avoid them.
Occly can be converted into a home or apartment safety solution called "HomeWatch™". By docking the device on the charging stand and using the motion and sound detection feature, the device acts as a home security system.
Often times, crime cannot be avoided and being unprepared should not compromise safety. Occly was created to deter criminals and to connect people to immediate help in the case of an emergency using the latest technology. Learn more about Occly and how it can provide safety and peace of mind.
About Occly
Occly was founded with one mission: to provide the single most complete wearable safety solution available. Occly's staff is truly dedicated to every customer's personal safety. Currently Occly is available for pre-order with discount, rewarding early supporters. First shipping of the product is planned for January 2017.
Please Watch our 2 minute YouTube Video!
To learn more information or order now, visit http://www.occly.com
Follow us on Social Media:
Facebook: https://www.facebook.com/occlywear
Twitter: https://twitter.com/Occlywear
LinkedIn: https://www.linkedin.com/company/occly-llc