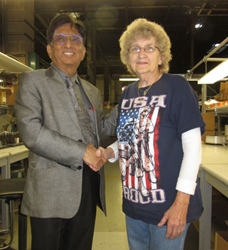 Piscataway, New Jersey (PRWEB) December 08, 2016
In Piscataway, NJ, the employees of S.S. White Technologies and its subsidiary, Shukla Medical, went home happy yesterday. In today's tough economy, most small to medium sized manufacturing companies in New Jersey are struggling to make ends meet. Many do not make much in profit to offer raises, let alone provide a Christmas bonus. At S.S. White, the CEO, Rahul Shukla, summoned all 122 employees to a short meeting and said "In this tough economy, our company is doing well. It would be only right to appreciate the employees with tangible gifts, not just in words." He went on to say, at the conclusion of his speech, the HR department will hand out a bonus check of $1,000 to each of the 123 employees.
There was a thunderous applause in the meeting room. The employees had smiles from ear to ear and some even became misty eyed. "This company has always treated us like a family", said Bob Hurst, Manager of Shipping Department. "The money will help," said Terence Chapman, who works in the shipping department as well, "but for the owner to reach into his pocket and give this bonus to every worker is unbelievable. He will be blessed for this." Mary Snyder, an assembly operator said, "I've been here 26 years; he's been good to us but this just went over the top, and everybody was completely shocked." Cecilia Chi, HR Manager said, "As a company, our biggest asset is our people. Their hard work and dedication is the main reason behind our success. To give such a gift is unprecedented, but is just one of many ways to share our success with the people who contribute to it.
The owner, Rahul Shukla, said in his speech that he has always considered his employees to be his family; therefore, he wanted to show his appreciation to them for their hard work and loyalty. He said, "Many companies offer bonuses to their top managers. We wanted to make a statement that every employee, from an assembly operator to the VP of Sales is important to us."
S.S. White Technologies is one of the oldest manufacturing companies in the USA, founded in 1844. In the Piscataway Plant, they make highly engineered products such as the flexible shaft assemblies. They proudly state that 98% of all the aeroplanes made in the world have at least one S.S. White part on them. Their subsidiary, Shukla Medical, also located in Piscataway, makes orthopedic surgical tools designed to extract worn or broken implants. S.S. White has subsidiaries in UK and India. The headquarters in Piscataway employs 123 people.
The event took place on December 7th.
For additional information or picture, please contact Cecilia Chi at 732-474-1747 ,
or Rahul Shukla at Day: 732-474-1739, Night: 908-268-1452