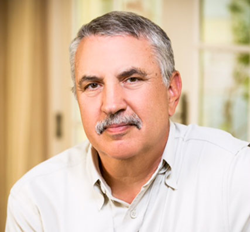 Claremont, Calif. (PRWEB) December 08, 2016
Journalist and author Thomas Friedman comes to the campus of Claremont Graduate University this Friday, December 9, to discuss his new book, Thank You For Being Late: An Optimist's Guide to Thriving in the Age of Accelerations.
Co-hosted by CGU and Live Talks L.A., Friedman's appearance serves as the inaugural event in a new speaker's series featuring guests from all fields of industry. A three-time Pulitzer Prize recipient, Friedman examines the convergence of digital information in his new book—mobility, broadband, and the cloud—and how they are transforming the present era into an "age of accelerations."
This talk is open to the campus community and the public.
What: New Speaker Series at Claremont Graduate University
Who: Thomas Friedman, New York Times columnist and award-winning author whose books include From Beirut to Jerusalem, The World is Flat, The Lexus and the Olive Tree, and Thank You for Being Late.
When: Friday, December 9, 1 p.m.
Where: Albrecht Auditorium
Campus of Claremont Graduate University
924 North Dartmouth Avenue
Claremont, Calif. 91711
Why: A new series committed to engaging recognized thinkers and thought leaders with the campus community in an intimate forum.
For more information, contact Nick Owchar, executive director of advancement communications at Claremont Graduate University, at (909) 621-8396.
*****
About Claremont Graduate University: Founded in 1925, Claremont Graduate University is the oldest graduate-only university in the United States with more than 2,000 students pursuing graduate degrees in more than 20 distinct areas of study and with a mission of producing a real, meaningful impact on the world. The university belongs to a consortium of schools in Southern California that includes Pomona College, Pitzer College, Claremont McKenna College, Scripps College, Harvey Mudd College, and Keck Graduate Institute.