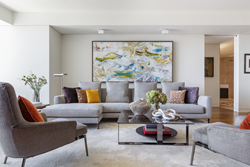 Decor Aid is making high-end design effortless and accessible
(PRWEB) December 08, 2016
As part of their commitment to making top-tier interior design services more accessible, Décor Aid is now offering complimentary in-person consultations in New York, San Francisco, Miami, Chicago, Boston and Washington DC.
The interior design industry has a reputation for being exclusive to the one percent, and is known for dealing in opaque pricing schemes. Décor Aid's mission is to change that.
"We are making high-end design effortless and accessible," said Décor Aid CEO Sean Juneja. "Our unrivaled team of interior designers provide services at an attainable price point. All of our design costs are disclosed upfront, and our fee structures are completely transparent. We pass all of our designer discounts on to our clients, which often exceed our design fees. It's a no brainer!"
Décor Aid's team of full-time, in-house interior designers are selected from the nation's most prestigious design firms. Initial consultations take place in person, and all proposals are individually tailored to the needs of each client.
Since the fall of 2014, Décor Aid has completed more than 800 projects in New York, ranging from single room redesigns to multi-million dollar gut renovations. The firm's breadth of styles can be seen in publications such as Elle Décor, House Beautiful, Architectural Digest, NY Magazine, HGTV, and many more.
Through partnerships with retail stores, trade vendors, and custom furniture fabricators, Décor Aid is able to provide its clients with trade-only discounts that are up to 50% less than retail prices. By only working with contractors and artisans of the highest order, Décor Aid is able to guarantee their clients a seamless home transformation.
Décor Aid's project management and purchasing teams oversee every aspect of the redesign process. From coordinating contractors, to placing orders, to tracking deliveries, Décor Aid handles it all. And if an unexpected problem should arise with a contractor or vendor, Décor Aid's customer service team is available for assistance, 7 days a week.
About Décor Aid
Sean Juneja and Markus Weber met a decade ago when they were colleagues in London. After they both relocated to New York for work, they realized that accessing great interior design was far too complicated and expensive. So, they founded Décor Aid to make luxurious interior design effortless and accessible.
The New York City based firm now offers its interior design services in San Francisco, Miami, Chicago, Washington DC, Boston and London.