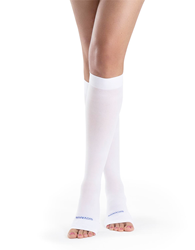 "Bedridden patients and those who are undergoing surgery should ask their physician about wearing anti-embolism stockings to help aid in the prevention of a Deep Vein Thrombosis (DVT)."
Peachtree City, Ga (PRWEB) December 08, 2016
Today's patients are encouraged to be up and moving as soon after surgery as possible. With this in mind, SIGVARIS has created a new line of anti-embolism stockings to help prevent a deep vein thrombosis (DVT or blood clot) during bed rest and provide the benefits of graduated compression when transitioning from recovery to early rehabilitation.
The SIGVARIS ANTI-EMBOLISM STOCKINGS are available in both calf-length and thigh-high styles and feature a unique open toe design that allows for easy inspection of the feet, while an anatomical foot design makes it easy to wear these stockings with shoes when transitioning from the bed to physical therapy.
These stockings feature 18–23mmHg of graduated compression and a comfortable top band that stays in place. It is also latex-free to prevent skin irritation. The fabric is extremely soft to provide extra comfort for patients.
"It has been documented that up to 60 percent of blood clots develop during or after hospitalization (worldthrombosisday.org)," says Scot Dubé, president and CEO for SIGVARIS North America. "Bedridden patients and those who are undergoing surgery should ask their physician about wearing anti-embolism stockings to help aid in the prevention of a Deep Vein Thrombosis (DVT)." DVTs can break loose and cause a pulmonary embolism, which has the potential to become fatal.
"Over the years, many professionals have asked us about anti-embolism stockings," adds Dubé. "With so many people benefiting from wearing graduated compression daily, this product makes it easy to talk to patients about how to prevent DVTs post-surgery, as well as the importance of taking steps to keep legs healthy every day."
Wearing graduated compression can dramatically help improve overall leg health by increasing circulation to keep legs looking and feeling their best. SIGVARIS graduated compression products are constructed to be tightest at the ankle and decrease in pressure going up the legs, improving circulation and providing relief for tired, achy legs. To learn more about products to help improve leg health daily, visit sigvarisusa.com.
About SIGVARIS
SIGVARIS® North America is part of an internationally active medical device group headquartered in Winterthur, Switzerland that focuses on the development, production and distribution of medical compression garments, including hosiery and socks. With distribution in more than 60 countries on six continents, SIGVARIS is recognized as a global industry leader in the area of compression therapy for the management of chronic venous disorders. SIGVARIS product lines include: SIGVARIS MEDICAL, SIGVARIS WELL BEING-CONSUMER HEALTH. Our U.S. manufacturing plant is located in Peachtree City, Ga. In 2014, SIGVARIS celebrated its 150th Anniversary. For more information, please visit http://www.sigvarisusa.com. SIGVARIS is a registered trademark of SIGVARIS AG, CH-9014 St. Gallen/Switzerland and in many countries worldwide.