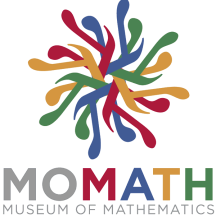 New York, NY (PRWEB) December 08, 2016
Winter Solstice Festival on Wednesday, December 21 at 6 p.m.
Museum Open Christmas Eve and Christmas Day
10 a.m. – 5 p.m.
The enormously popular National Museum of Mathematics (MoMath), which has attracted more than half a million New Yorkers and visitors from around the world, will be celebrating the fourth anniversary of its opening with a month of special programs, events, contests, and activities for schools, guests, and families.
Keeping up a four-year tradition, the Museum will celebrate its anniversary (and the winter solstice) by partnering with the Flatiron/23rdStreet Partnership with a free public event on Wednesday, December 21 at 6 p.m. at the Flatiron Plaza on East 23rd Street between Broadway and Fifth Avenue.  There will be free hot chocolate provided by La Pecora Bianca, a chance to spin the Flatiron prize wheel to win prizes from local businesses, and a food drive for the Food Bank For New York City.  And on Christmas Eve and Christmas Day, the Museum will keep its doors open throughout the day from 10 a.m.  – 5 p.m, with special new tours and uniquely engaging math sessions available on both days.
Launched on December 12, 2012, MoMath has been welcomed by New Yorkers, tourists, and critics with open arms and rave reviews. As the only mathematics museum in North America, MoMath has grown from a national traveling math exhibit – Math Midway – to a landmark cultural and educational institution beside Manhattan's Madison Square Park with more than three dozen state-of-the-art interactive exhibits.
During the month of December, MoMath will be celebrating the holidays with the following events and activities:
Math Encounters: "How to Bake Pi: Making Abstract Mathematics Palatable"
with Eugenia Cheng
Wednesday, December 7, 4:00 pm and 7:00 pm
Through unexpectedly connected examples from music, juggling, and baking, Eugenia Cheng, Scientist in Residence from the School of the Art Institute of Chicago, combines hands-on activities, humorous anecdotes, and everyday life with a dash of surprisingly high-level mathematics and a distinct emphasis on edible examples.  Special introduction by Bedtime Math founder and author Laura Overdeck.  Learn more and register at mathencounters.org.
 
Tween Primes, the MoMath book club for tweens and teens: Ruby Redfort Look Into My Eyes by Lauren Child
Friday, December 9, 4:30 pm
Tween Primes returns with Ruby Redfort Look Into My Eyes.  Thirteen-year old Ruby Redfort is a genius code-breaker with Sherlock Holmes-like observational skills.  She's a prodigy: brilliant, tenacious, and observant.  Ruby and her best friend, Clancy Crew, dash about following hunches; they're drawn into a whirl of comedy and menace, espionage and cryptograms, and naive townspeople and baleful baddies.  The story moves with a swift pace, clever dialogue, and many codes and puzzles scattered throughout.  Pizza and ice cream to be served.  Learn more and register at tweenprimes.momath.org.
 
Summations: homeschool exploration days at MoMath
Wednesday, December 14, 2:00 pm
Homeschool students are invited to experience the excitement of a MoMath field trip with the Summations program. Participants will spend the afternoon perusing MoMath's engaging interactive exhibits along with other homeschool families.  Registration includes admission to an exploratory, hands-on classroom experience led by one of MoMath's specially-trained educators, with workshops available for all grades.  Learn more and register at summations.momath.org.
Volumes, the MoMath book club: Finding Zero by Amir Aczel
Thursday, December 15, 6:00 pm
In Finding Zero, readers follow Aczel's quest doggedly crisscrossing the ancient world, scouring dusty, moldy texts, cross-examining so-called scholars who offer wildly differing sets of facts, and ultimately penetrating deep into a Cambodian jungle.  While on this odyssey, Aczel meets a host of fascinating characters: academics in search of truth, jungle trekkers looking for adventure, surprisingly honest politicians, shameless smugglers, and treacherous archaeological thieves―who finally reveal where our numbers come from.  Along the way, readers enrich their knowledge and experience of math, philosophy, religion, and the human condition.  Learn more and register at volumes.momath.org.
  
MathHappening: Puzzle on the Plaza
Wednesday, December 21, 6:00 pm at the Flatiron Plaza (E. 23rd St, btw Broadway & 5th)
MoMath and the Flatiron Partnership will celebrate the winter solstice by inviting guests to participate in Math Happening: Puzzle on the Plaza and by solving a giant mathematical puzzle.  The first 300 people onsite will have the opportunity to help construct an oversized mathematical tiling that contains a secret message hidden within.  Guests are welcome to enjoy free hot chocolate on the plaza and mingle with others as the hidden message is revealed. Learn more and register at solstice2016.momath.org.
Math Exploration sessions
Saturday, December 24 through Saturday, December 31
MoMath's Math Exploration sessions, previously exclusive to school field trips, are now open to the public! Join one of MoMath's specially-trained educators in an exploratory, hands-on classroom experience to discover the wonder of mathematics. Educator sessions are appropriate for the whole family. Learn more and register at exploration.momath.org.
Four Years of MoMath Photo Contest
In celebration of its fourth anniversary, MoMath is launching a photo contest inviting guests (past and present) to submit digital images from a visit to the Museum. Participants are requested to share photos and a short comment at MoMath(at)momath(dot)org with the subject line "Anniversary Photos." Photos must be submitted via email to be considered for the contest. Selected submissions will be posted in a new online photo gallery in the Museum in time for the anniversary on Monday, December 12.
MoMath's Derivatives Tour Program
Fridays, Saturdays, and Sundays
Announcing the newest way to enjoy MoMath: The MoMath Derivatives tour program. Visitors are able to enjoy a new perspective on MoMath in a small group setting as they wander the Museum with an expert tour guide leading the way. Choose from the following two tours available each day on Friday, Saturday on Sunday throughout December. Learn more and register at derivatives.momath.org.
Colorful Characters
What kinds of people do mathematics? Learn about some of the interesting folks who have shaped the way mathematicians and the public think about mathematics, the work they did, and how their stories tie in with MoMath's exhibits.
Hidden Math
Think you've seen all of MoMath? Think again! This tour tracks the many mathematical "easter eggs" (hidden secrets) scattered throughout the Museum.
Seeing Math Photo Contest
MoMath is hosting a photo contest about how an individual sees math in the world around him/her. Participates can submit their photos via Facebook, Twitter, or email. Winning photos will be displayed on the large screen in the Museum as part of this visual tour of the mathematical world around us.  Visit seeingmath.momath.org for details.
CONTACT: Lisa Sherman-Cohen I lisa(at)gzandassociates(dot)com I 646-603-6869
Beatrix Maes|beatrix(at)gzandassociates(dot)com |646-603-6869
About the National Museum of Mathematics
The only math museum in North America, the National Museum of Mathematics (MoMath) strives to enhance public understanding and perception of mathematics in daily life. Since it opened in December 2012, more than 500,000 New Yorkers and visitors from around the world have come to the Museum. Another 500,000 have experienced MoMath exhibitions and content in seven countries, including the United States, Singapore, Brazil, Germany, Russia, Spain, and Sweden.
MoMath fulfills an incredible demand for hands-on math programming, creating a space where those who are math-challenged – as well as math enthusiasts of all backgrounds and levels of understanding – can revel in their own personal realm of the infinite world of mathematics through more than 37 state-of-the-art, one-of-a-kind, interactive exhibits. MoMath was awarded the bronze 2013 MUSE Award for Education and Outreach by the American Alliance of Museums.
Location
MoMath is located at 11 E. 26th on the north side of popular Madison Square Park in Manhattan.
Hours
Open seven days a week, 10 a.m.-5 p.m. For more information, visit momath.org.