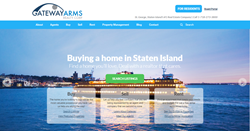 Staten Island, New York (PRWEB) January 03, 2017
Gateway Arms Realty Corp, Staten Island's Premier Full-Service Real Estate and Property Management Firm Since 1977, announced the launch of their newly redesigned website at http://www.gatewayarmsrealty.com. The updated, responsive site features a clean, minimalistic design with an intuitive user interface that provides a flawless experience for users across mobile and desktop devices. The new site also provides a more custom and interactive experience for clients and demonstrates the best trends in the real estate industry, with simplified navigation, modern styling, and robust MLS search capabilities that make it easier for buyers, sellers and renters to find exactly what they're looking for.
"We are excited about the newly redesigned website. It will now offer improved functionality for visitors and give them quick and easy access to essential real estate information," explains Laura L. Volsario, CRS, SRES- Director of Operations, NYS Licensed Real Estate Associate Broker. "We've created a 'one-stop-shop' which will allow users to have very positive online brand experience, as we continue to increase our market presence in the North Shore of Staten Island and beyond."
The site includes an extensive library of enhanced content, blogs and infographics that help visitors gain a better understanding of critical real estate topics, in-depth industry news, featured listings and testimonials.
One of the most exciting new features of the site is a "For Residents" tool which allows tenants to see necessary mailing lists, pay bills and rent online, contact property management, request maintenance service, and access other important online forms. Another restricted area of the site allows co-op boards to manage their properties quickly and easily online.
In addition, the new website reflects Gateway Arms' ongoing commitment to helping real estate professionals gain a competitive advantage that will draw even more clients to them. "One of the keys to capturing the online real estate buyer/seller is to make their search experience as easy as possible on mobile, with this new responsive website design," says Fitzsimmons Volsario. "By updating to a dynamic website design, our agents and brokers can gain a competitive edge that will draw more clients their way. Gateway Arms excels at offering that edge, and now our newly expanded web design will help realtors understand that."
As a family-owned and operated agency, building a strong community is important to Gateway Arms. Agents all live in Staten Island, working together to make a positive mark in the area they love. Fitzsimmons Volsario says, "We're excited to use our updated website as a vital tool to strengthen the online community and emphasize our commitment to residents on Staten Island. This is just the first step in our ongoing efforts to connect with residents, owners, buyers and sellers."
About Gateway Arms Realty Corp
Gateway Arms Realty Corporation, a full-service real estate sales agency providing property management services in Staten Island, New York, was founded in 1977 by Robert J. Fitzsimmons, who developed the highly successful and respected firm from a modest start. Robert J. Fitzsimmons Jr. and Laura Fitzsimmons Volsario later joined their father, with a passion for the business. Both determined to make a positive mark in their community while providing a vast amount of services to buyers, sellers, investors, property owners and tenants. They have achieved a reputation, for themselves, their team of agents and company that, by every measure, distinguishes Gateway Arms Realty Corporation in the highly competitive arena of Staten Island real estate as clearly one of the best.