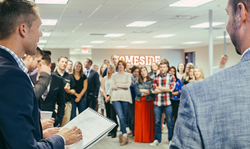 "Everyday at Homeside we ask ourselves how can we deliver on our of promise of being a modern mortgage company. For us "modern" doesn't just mean technology, it means building things that positively affect the way people experience financing a home."- Dan
(PRWEB) December 09, 2016
WHO IS HOMESIDE?
Homeside is one of the nation's fastest growing mortgage lenders, with a mission focused on blending technology with a handshake to disrupt the mortgage industry. Since opening in late 2013, Homeside has grown to over 400+ employees, 20+ locations, is recognized as a Top 100 Mortgage Lender in the country, and ranked as one of the Top 50 Best Places to Work nationally.
Dual-headquartered in Columbia, MD, & Columbus, OH, Homeside provides a modern mortgage experience to its consumers, and a dynamic career path and culture for its team members.
WHY US?
"Everyday at Homeside we ask ourselves how can we deliver on our of promise of being a modern mortgage company. For us "modern" doesn't just mean technology, it means building things that positively affect the way people experience financing a home."- Dan Snyder Co-Founder, Managing Partner Homeside Financial
WHAT PEOPLE ARE SAYING…
"Wonderful, Innovative, and supportive company"
"My "Forever" company"
"Amazing Culture! Best place I have worked in my 20 years"
"Homeside = Happiness"
Transparent, fast-paced, and room for growth...What's not to like?
"They invest in your growth and care about your success"
WHAT'S THE AWARD
On Glassdoor, current and former employees of companies worldwide can share insights and opinions about their work environments by sharing a company review, designed to capture a genuine and authentic inside look at what it's like to work at particular jobs and companies. When sharing a company review on Glassdoor, employees are asked to rate their satisfaction with the company overall, and key workplace factors like career opportunities, compensation, benefits, work/life balance, senior management, as well as culture and values. In addition, employees are asked to describe the best reasons to work at their companies as well as any downsides.
The Best Places to Work are determined using company reviews shared by U.S. based employees between November 2, 2015 and October 30, 2016. The final list is compiled based on Glassdoor's proprietary algorithm, and takes into account quantity, quality and consistency of reviews.
The complete list of the Glassdoor Best Places to Work in 2017: https://www.glassdoor.com/Award/Best-Small-and-Medium-Companies-to-Work-For-LST_KQ0,43.htm
QUICK HOMESIDE FACTS
● Homeside Financial was founded in 2013
● Headquartered in Columbia, MD
● Grown to over 450 people in under 4 years
● In over 20 states
● Top 100 Mortgage Lender
● On pace to be a Top 20 Lender by 2020
● Zillow 5 Star Lender - https://www.zillow.com/lender-profile/goHomeside/
● Homeside Financial, LLC NMLS ID: 1124061