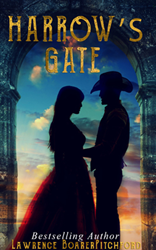 I was hooked from the first pages of Harrow's Gate...
Sacramento, California (PRWEB) December 08, 2016
The reviews are coming in!
"Harrow's Gate by author Lawrence BoarerPitchford is one of the most original and just flat-out interesting and fun fantasy/ romance/action/fiction novels I've ever read." Nicola Flood— Goodreads; Barnes & Noble; Indie Book Reviewers.
"I was hooked from the first pages of Harrow's Gate by Lawrence BoarerPitchford and my interest never faded for a moment!" Darlene Cupp.
"The writing has great energy and is genuine and authentic, but for me it really was the dialogue that truly brings this memorable story to life!" Essie Harmon— Goodreads; Barnes & Noble; Indie Book Reviewers.
"I loved the dialogue with the characters – very genuine and real and with lots of attitude – love it!" Carla Biggins.
"He [the author] has a natural gift for crafting a well-thought out story and developing complex, memorable characters and a creative world that totally engulfs you!" John Goldman.
Harrow's Gate, along with all other ebooks by Lawrence BoarerPitchford are discounted to 99 Cents for the holidays. "Come with me on a magical ride back in history, or be transported to a fantasy world where magic dwells, and hot passion sizzles on every page! Now is the time to give the gift of escape, entertainment, action, and adventure - seize the moment!" said the author.
Also, the Book Nymph is promoting Harrow's Gate at their online holiday book fair and promotional giveaway, where one can win a Kindle Fire & Case. Fun and prizes – happening on December 08, 2016 at the Book Nymph!
Lawrence BoarerPitchford is the author of such works as Thadius, The Lantern of Dern Blackhammer, Sawbones, In the World of Hyboria (Book 1 Grim Determination and Book 2 The Ties that Bind), as well as the irreverent and cheeky novel Tales of Mad Cows and Brothels. Feel free to "Follow" the author on Amazon.com, or go to his website http://www.boarerpitchford.com and go to Contact and leave your information. The author will provide you updates to his works or advance notice of new books coming to publication.
Lawrence works and lives in the Sacramento region of California. His work can be found on Amazon Books, Smashwords, Barnes & Nobles, and iBooks. Take a moment to explore http://www.BoarerPitchford.com and visit the author on Facebook, Twitter, and Goodreads.