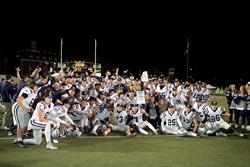 This is the first season we've had with the Shaw Sports Turf in our football stadium, and it has already had a positive impact on our football program.
Farragut, Tennessee (PRWEB) December 08, 2016
December 2nd, 2016 is a date that the Farragut High School football team won't soon forget. It's on this day that the team became state champions for the first time in the school's history.
Beating out their opponent, Independence High School, by a score of 45-35, the Admirals took home the trophy as Class 5A State Champs after their win at the Blue Cross Bowl, held in Tucker Stadium in Cookeville, TN. The Admirals ended a 29-game winning streak by Independence after coming back from a 28-point deficit. Though the road that got them here has not always been the easiest, the team came together under seasoned head coach Eddie Courtney to clinch the well-earned win.
One aspect of their recent success as state champs goes back to last spring when Farragut high school installed their new Shaw Sports Turf field as part of the largest high school synthetic turf project ever in the state of Tennessee.
"This is the first season we've had with the Shaw Sports Turf in our football stadium, and it has already had a positive impact on our football program," said head coach Eddie Courtney. "It not only looks first class; it also allows us to practice, train, and play, no matter the conditions of the day."
Because the turf can withstand any weather conditions, the team was able to put in more hours of play which in turn better prepared them for their games. The team had made it to the playoffs before, but the addition of the turf took the team to a whole new level as state champs.
The Farragut football team plays on Shaw Sports Turf Legion System. Legion is a combination of high-performance monofilament fibers and a durable slit film fiber. The slit film fiber is a workhorse which will handle the workload, while the monofilament provides a more resilient surface that enhances performance characteristics.
"This state championship means so much to the team, the staff, the school, former players, and all of the Farragut community as we continue to strive for our best in all we do," said Courtney.
Beyond the improved performance of the football team, Coach Courtney has been able to better enjoy his role as a coach and educator. "All of the time I now don't have to spend on field maintenance has allowed me to be a much better coach."
Courtney has been a coach at Farragut for 35 years, and head coach for 21 years. With all the extra time he can devote to coaching now, there should be more state championships in the future for the Admirals.
About Shaw Sports Turf
A wholly-owned subsidiary of Berkshire Hathaway Inc., Shaw Industries is a full flooring provider to the residential and commercial markets. Shaw supplies carpet, hardwood, laminate, resilient, and tile/ stone flooring products, as well as synthetic turf. Shaw Sports Turf is one of the leading synthetic turf companies in North America and has represented quality and innovation for more than two decades with over 1,500 successful installations, including an impressive list of high-profile field installations. For more information please visit http://www.shawsportsturf.com, call 866-703-4004 or find us on Facebook.