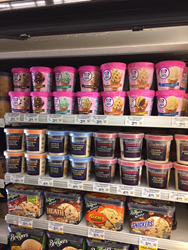 Our job is basically to help manage the breakthrough channel success of the Baskin-Robbins brand with a whole new level of forecasting and planning
Cary, N.C. (PRWEB) December 08, 2016
Boardwalk Frozen Treats, the exclusive retail distributor of Baskin-Robbins in the U.S. and Canada, picked Vanguard Software to help optimize inventory and supply chain operations for its fast-expanding retail channel.
"This is a fantastic opportunity to work with an iconic brand while further strengthening our supply-chain expertise in the food and beverage sector," said Neal Goffman, VP of Sales and Marketing for Vanguard Software. "It's also another sign that makers and distributors of all kinds are looking increasingly to supply-chain technology to drive their competitive edge."
Baskin-Robbins, the world's largest ice cream chain, began selling prepackaged products through retailers in 2014, through its exclusive deal with Boardwalk. Both companies have since watched the Baskin brand's retail sales (distinct from Scoop Shop) take off.
Boardwalk executives say they expect their investment with Vanguard Software will increase forecast accuracy, minimize ingredient and finished-goods losses, and improve supply-chain operations and financial performance.
They also expect to increase customer service levels without increasing supplier inventory levels, providing additional financial returns during a period of rapid operations and revenue growth.
This year Baskin-Robbins' pint brand rose to No. 8 in sales in a crowded U.S. field of 200 brands. Baskin-Robbins products are now authorized for sale in more than 12,000 stores. Boardwalk's sales, meanwhile, keep climbing. According to scanner data, retail sales jumped 90 percent in the first half of 2016 from the same period a year earlier.
Execs at both companies expect sales growth to continue, with additional expansions of the retail product line and distribution network. Therefore, Boardwalk must take on increasing product and customer complexity. As such, the company will use Vanguard IBP to forecast demand for its expanding retail product line and to optimize inventory and supply-chain policies for maximum operating efficiency.
"Our job is basically to help manage the breakthrough channel success of the Baskin-Robbins brand with a whole new level of forecasting and planning," Goffman said. Vanguard IBP is a business forecasting and planning platform that combines advanced analytics with forecast automation and an intuitive, graphic user interface for non-expert business users.
On the IT side, Vanguard's cloud IBP platform will integrate directly with NetSuite, Boardwalk's cloud-based Enterprise Resource Planning (ERP) system.
About Vanguard Software
Vanguard introduced its first product for decision support analysis in 1995. Today, thousands of companies across every major industry and more than 60 countries rely on Vanguard Integrated Business Planning (IBP), forecasting and advanced analytic solutions.

3000+ Customers: Small and medium businesses to global industry leaders
$580 Billion, and Growing: Total value of forecasts managed using Vanguard
68 Countries: Our products create value worldwide
$1.9 Billion: Average annual value of forecasts managed in Vanguard by the typical customer