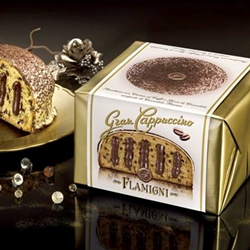 Italian Panettone makes for a unique, delicious and traditional gift this holiday season
Youngstown, OH (PRWEB) December 08, 2016
This holiday season, Gourmet Italian, a boutique importer of fine and rare Italian goods, is pleased to announce availability of its full lineup of panettone, a delicious holiday cake in the Milanese tradition.
From as early as the 18th Century, panettone has been a cornerstone of the Christmas tradition throughout the Italian peninsula. By the 20th Century, this delicious holiday treat had become a staple throughout the western world.
With panettone from familiar brands such as La Florentine and Flamigni, and more than 20 varieties in stock, Gourmet Italian offers the right cake for any occasion. These include:
Classic
Raisins without Fruit
Chocolate Drops
Sugar Iced with Chocolate Drops
Glassato
Gran Fondente
Gran Cappuccino
Gran Pistachio
Fig and Chocolate
Orange and Chocolate
Pear and Chocolate
Cherry and Chocolate
Apricot and Chocolate
Citron and Chocolate
Tiramisu
Tropical Fruit
Sidari Pandoro
Marrons Glaces
Because panettone is made through a combination of very careful production techniques and exquisite, handmade craftsmanship, it has an extensive shelf life – almost 10 months. This makes it an excellent gift for the holidays, or just a treat that can be enjoyed nearly the whole year round. However, because of panettone's immense popularity during the winter months, they often sell out, making this holiday season one of the best, last chances to pick up one of these wonderful cakes.
Panettone makes for a unique, delicious and traditional gift this holiday season. With thousands of products sourced directly from carefully selected suppliers, Gourmet Italian offers the authentic taste of the Old World with all the convenience of ordering online at GourmetItalian.com.
A family business, Gourmet Italian imports only the finest Italian goods, carefully sourced over three generations. A branch of Wholesale Food Network, LLC in Youngstown, Ohio, GourmetItalian.com has been offering the family's lineup of premium imported goods online since 2009. For information, please see Gourmet Italian website, or the contact via the information below.
Wholesale Food Network LLC, d.b.a. Gourmet Italian