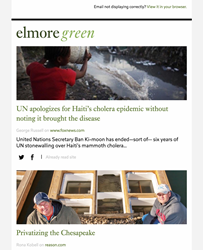 Elmore Green is like a multi-vitamin for your worldview
Seattle, WA (PRWEB) December 08, 2016
The rise of Donald Trump and the Brexit result were a shock to many; mass surprises caused by the echo chamber effect a mixture of algorithms and human habit that shelters people from what is occurring in the world around them.
Launching today is Elmore Green a newsletter that helps people break out of their echo chambers. Each day the service emails subscribers ten links to articles from publishers they would never usually read.
An early tester described Elmore Green as being "like a multi-vitamin for your worldview."
Elmore Green uses an algorithm that does the reverse of those powering filters like the Facebook news feed. Rather than finding articles people like or agree with, Elmore Green seeks out articles an individual is unlikely to read.
For example, if a reader likes the New York Times, Mother Jones and listens to NPR, Elmore Green may find links to articles from the National Post. The reverse is also true if a person tends to read Breitbart, The Drudge Report and watches Fox News, Elmore Green will send would find articles from sites like The Daily Kos or The Washington Post.
Richard Shaw, the creator of Elmore Green, says he hopes that the service "helps people better understand what is going on around them and encourages the building of a few bridges instead reinforcing our self-imposed walls."