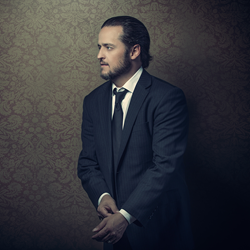 I wanted to write a song about Jesus's birth from His mother's perspective considering the thoughts Mary would have had about her child's future.
Salt Lake City, Utah (PRWEB) December 08, 2016
When #1 Billboard artist Paul Cardall was born, his parents were informed by cardiologists that their newborn son would die within hours due to a complex heart defect. But the baby, less than one day old, immediately underwent life-saving surgery, defying medical expectations.
In the years since his traumatic birth, Cardall has met thousands of patients and parents, particularly mothers, who were told that the child they carried in pregnancy would have heart complications and live a difficult life. These interactions and other experiences inspired Cardall's new song, "Son of God."
"I wanted to write a song about Jesus's birth from His mother's perspective considering the thoughts Mary would have had about her child's future," said Cardall who before he was recording artist, graduated from a four year seminary program and later received a certificate completing an additional 4 years of religious studies at the Salt Lake City Institute of Religion.
"The depth of what I am trying to convey in Son of God comes from Mary's experience being visited by the Angel Gabriel who informed her she was blessed among women and would conceive not just any son, but Son of the Most High," says Cardall. "During these months, I believe Mary came to know more than we sometimes give her credit for. Her family observed the sabbath and attended the synagogue. I believe she would have remembered or listened more intently to the prophecies of a Messiah read from the scrolls of scripture heard by all who attended the Synagogue."
Today, children all over the world are born with complex congenital defects, and in most cases new mothers are informed their child might not survive into adulthood. In fact, congenital defects are discovered in utero using an ultra sound before pregnant women give birth. Cardall says, "In a way, I believe these mothers can relate to the dilemma Mary faced, knowing her son was unique and might live a shortened life."
Cardall invited international Broadway star Patrice Tripoki to sing his words. Cardall's powerful lyrics, sung by Tipoki, bring to mind the admiration and adoration felt by Mary for her baby, along with the weight of the ultimate burden He would bear for mankind.
The Son of God music video was filmed in London where Tipoki was rehearsing Fantine in Cameron Mackintosh's New Production of Les Miserables that is finishing up this weekend in the brand new Dubai Opera.
"Son of God" appears on A New Creation, released September 16, 2016 by Stone Angel Music, featuring soloists Nathan Pacheco (Disney Pearl Records; Yanni Voices tour), Patrice Tipoki (Fantine, Les Miserables international Broadway tour), The American Heritage Lyceum Philharmonic, American Heritage Youth Chorus and Stone Angel Music Orchestra under the direction of Shane Mickelsen. The album is distributed by CDBaby, Alliance Entertainment, and Deseret Book Distributors, and is also available on streaming internet radio.
About Stone Angel Music: Salt Lake City's award winning independent record label was founded by #1 Billboard Pianist Paul Cardall in 1999. Other artists include pianist Jason Lyle Black, guitarist Ryan Tilby, composer Shane Mickelsen and pianist Ryan Stewart. Stone Angel also released two albums with cellist Steven Sharp Nelson prior to his joining Sony's The Piano Guys. Stone Angel Music artists have spent over 45 weeks on Billboard charts in just the past year. Learn more: http://www.stoneangelmusic.com