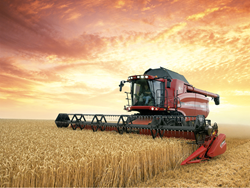 Jupiter, FL (PRWEB) December 08, 2016
DMG Productions announces its sixth season of the highly acclaimed American Farmer TV series, scheduled to broadcast on Tuesday, January 2, 2017 at 8:00 am ET on RFD-TV.
This new season of American Farmer will cover a number of topics that are important to the growth of the industry. As 2050 rapidly approaches, the debate of how to feed our growing nation with less resources and limited land continues. American Farmer will focus on a number of topics, from automation technology and machinery, to the farmers, ranchers, and landowners dedicated to food security and growth.
"American Farmer is proud to showcase the innovative and groundbreaking changes taking place," said Jennifer Tierney, Producer for the American Farmer series. "We look forward to enlightening viewers on the impacts being made throughout the industry.
About American Farmer:
American Farmer is a breakthrough program on a mission to showcase the latest advancements in agriculture and farming. From seed to harvest, livestock and more, our producers have traveled the country covering the people, places and issues impacting all areas of farm country.
American Farmer airs Tuesdays at 8:00am ET on RFD-TV. Check your local listing for show times. For more information visit: http://www.AmericanFarmerTV.com or contact Jennifer Tierney at (866) 496-4065 x 850 or via email at: Jennifer(at)AmericanFarmerTV(dot)com.