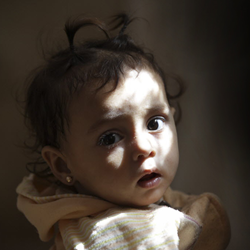 "Please—I want the world to feel us, to have compassion, to listen to these stories of our lives and our suffering." - Isra, Syria border
Englewood, Colorado (PRWEB) December 10, 2016
Denver-based humanitarian aid organization, Saving Moses, is raising money for the most vulnerable population in Syria's civil war—babies and toddlers.
The situation in Syria continues to worsen—deadly weapon explosions are increasing as aid supplies run out. Families are experiencing bombing, facing starvation, and dying from disease. The situation is intensifying with winter coming and airstrikes increasing.
Saving Moses turned its attention to the babies in Syria's most besieged areas, mobilizing their team and working to provide funding for nourishment support for babies less than two years of age. They will continue raising money and awareness of the situation throughout the month of December to support Syria's most urgent aid needs.
The war in Syria is in its fifth year, and humanitarian needs in the region continue to grow. The babies and toddlers are most vulnerable as water, food, medical access, and shelter are no longer available. Many babies' lives are ending before they begin. Authorities estimate that children make up one-third of the casualties in Syria.
Saving Moses' ongoing programs are focused where the infant mortality rate is the highest in the world and on babies of sex workers, who are most susceptible to exploitation.
To learn more about Saving Moses' Syria relief efforts and their ongoing work around the world, please visit: http://www.savingmoses.org or contact info(at)savingmoses(dot)org. To donate, visit: http://savingmoses.org/syria/.
About Saving Moses: Saving Moses saves babies where the need is most urgent and the care is least available. Their revolutionary programs serve nations that record the highest infant mortality rate and where babies of sex workers are most susceptible to exploitation. They operate NightCare centers in Cambodia, offering shelter and protection for babies and toddlers of sex workers, fund six malnutrition clinics in Angola, which provide therapeutic milk to little ones who are critically ill, and provide midwives, postnatal vaccinations, and teach basic life-saving skills in Afghanistan.