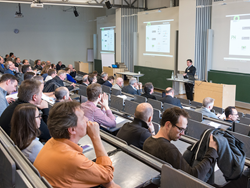 Attendees were drawn by the technology behind our software solutions.
Las Vegas, NV (PRWEB) December 10, 2016
On Nov. 17, InkRouter, a subsidiary of Opensoft Inc., presented advanced solutions to workflow challenges in the printing industry at the CIP4 Workflow Symposium on JDF, Industry 4.0 and Workflow Automation, a global organization and symposium for printers and vendors. Brett Heap, CEO, Opensoft Inc. shared InkRouter's JDF application with 150 print industry professionals and media technology students at Hochschule der Medien in Stuttgart, Germany.
In his presentation on "Job Routing and Product Designing/Visualizing," Heap introduced InkRouter's bi-directional API technology, which utilizes JDF/CIP4 compatible XML definitions to ease cross-vendor workflow applications in pre-press and advanced the growth of trade printing across the world.
"Attendees were drawn by the technology behind our software solutions," said Heap. "InkRouter didn't just generate interest during the lecture, but also following the symposium. Several major industry players were highly enthused about expanding their market share with little to no overhead costs."
The automated print procurement software facilitates orders between print resellers and print providers. Job orders from print resellers can be fulfilled by participating print providers that best match up to 100 attributes. This model creates a global network that expands a print reseller's portfolio without added expenses or equipment and essentially fosters worldwide trade printing.
Top field experts also discussed the future role of JDF and XJDF software in digital publishing.
Dr. Rainer Prosi, a leading software developer for imposition and finishing automation, explained that the potential future application of XJDF software could help streamline production of printed products. Andreas Aplien, product manager of digital workflow solutions, Müller Martini AG, added that continued advancement of the JDF format will be able to work together with XJDF.
In its eighth year, the 2016 CIP4 Workflow Symposium hosted presentations and live product demonstrations for printers, publishers, media experts and vendors. The next symposium is scheduled for November 2017.
For more information on InkRouter, visit inkrouter.com
###
About InkRouterSM
InkRouter, Inc. is a wholly owned subsidiary of Opensoft Inc., located in Las Vegas, Nev. Opensoft Inc. has advanced technologies for the print industry and extensive experience in developing print software for managing print processes at every stage of selling, manufacturing and fulfillment.