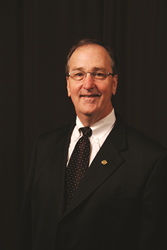 Working at FHU is and has been a true ministry for which I will be forever grateful to the board for allowing me to experience.
Henderson, Tennessee (PRWEB) December 08, 2016
Freed-Hardeman University has begun the process of naming a new president, following Dr. Joe Wiley's announcement of his intent to retire June 1, 2017. The FHU Board of Trustees called upon faculty, staff, alumni and friends to begin the transition process by engaging in 10 days of prayer. "The trustees believe all good things begin with prayer," John Law, chairman of the board, said.
The FHU Presidential Succession Committee began accepting resumes Dec. 1, 2016. Those interested in being considered for the position may submit their resumes to fhupresident(at)fhu(dot)edu during the month of December (http://www.fhu.edu/future). Members of the church of Christ who possess the following qualities are invited to apply: excellent communication skills, proven leadership ability in motivating and uniting teams and a successful track record of setting and achieving ambitious, measurable goals. A terminal degree is preferred but not required. Committee members will follow up with applicants.
Earlier, Dr. Lynn Patterson (chair of the succession committee) asked members of the FHU community to share their thoughts, goals and dreams for FHU's future. Those responses are being shared with committee members.
Wiley has served as president of FHU since 2008. During that time the face of the campus has changed. Anderson Science Center, Heritage Commons, Bader Green, Bucy Tower and Hope Barber Shull Academic Resource Center have been added to the Henderson campus, and FHU/Dickson began in Middle Tennessee with the addition of The Renaissance Center. FHU has initiated two new doctoral degrees (in education and behavioral science) and a Bachelor of Science in Nursing. The offering of bachelor's and master's degrees on site and online has also expanded, in addition to industry-leading availability and use of technology in the educational process.
During Wiley's nine years at the helm, FHU has secured a 10-year reaffirmation from Southern Association of Colleges and Universities Commission on Colleges. Also, FHU has established the Engaged Learning Initiative, secured funding for two centers of excellence, initiated University Scholars' Day and the Graduate School of Theology Research Symposium, expanded the number of study abroad opportunities from one to five locations, and formalized the undergraduate research program.
"Working at FHU is and has been a true ministry for which I will be forever grateful to the board for allowing me to experience," Wiley said. "While there are goals and objectives left uncompleted, we have accomplished much together, and I am confident that FHU is well-positioned for the future."
"We want to express our extreme gratitude to Dr. Wiley for his years of service to our university," Patterson said. "We ask that members of the FHU family continue to pray for us as we continue this process."
The mission of Freed-Hardeman University is to help students develop their God-given talents for His glory by empowering them with an education that integrates Christian faith, scholarship and service. With locations in Henderson, Memphis and Dickson, FHU offers bachelor's, master's, specialist's and doctoral degrees. More information is available at http://www.fhu.edu.