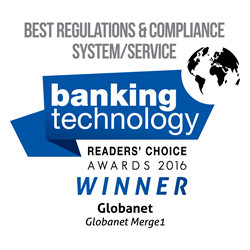 The award recognizes Merge1 for giving the financial services industry greater control over their workforce's non-email communications by helping capture, archive and search the conversations that are taking place.
Los Angeles, CA (PRWEB) December 09, 2016
Globanet™, an information management firm specializing in messaging compliance, announced today that Globanet Merge1™, the company's flagship message capture and archive-agnostic software tool, has been recognized as the winner of the 2016 Banking Technology Best Regulations and Compliance System / Service Award as voted on by Banking Technology's broad international audience of bankers and financial services professionals.
Globanet is honored to receive this award for Merge1 and proud to be included in such great company with those shortlisted for this prestigious award. Winning Banking Technology's Best Regulations and Compliance System/Services Award is a testament and speaks to Merge1's preeminence in helping clients meet their regulatory compliance obligations with ease. Whether for financial services, healthcare, energy, or clients in any other regulated vertical, Merge1 captures text messages, IM, social media, enterprise collaboration and financial messaging communications into any archive.
Sevag Ajemian, CEO at Globanet said: "We are delighted to have been chosen by Banking Technology for this regulatory compliance award from amongst a very competitive field. The award recognizes Merge1 for giving the financial services industry greater control over their workforce's non-email communications by helping capture, archive and search the conversations that are taking place. This helps financial services organizations better monitor 'what's being said' by their staff, improving search quality when conducting eDiscovery for litigation or regulatory investigations while ensuring compliance with financial industry-mandated regulations to capture and monitor employee communications."
Sam Elbeck, Vice President Sales, Marketing and Business Development at Globanet said: "This award means a lot as it is a reader's choice award and we were nominated by our customers. Our dedication to ensuring we have a continually evolving solution that will help organizations meet compliance and regulations is evident when we accept awards like this. In the end, it is not what we say that counts but what our customers say and this award is our customers speaking. We will continue to provide organizations with the ability to comply with both local and global regulations like SEC 17-a4, MiFID (2), FINRA and many more."
Merge1 connects to and retrieves a wide variety of message types for financial services and other clients, including Facebook, Bloomberg, Symphony, FactSet, Thomson Reuters Eikon, BlackBerry, Microsoft Skype for Business, Microsoft Yammer, Microsoft Lync, Microsoft Exchange/Office 365 EWS 3rd Party Targets, Salesforce Chatter, Jive, CipherCloud, Merrill Chat, UBS, Slack, Reuters 3000, BlackBerry, MobileGuard, Cisco Jabber, Twitter, Market Look, Liquidnet, FX Connect, EML Files, Database Content and more.
Many financial services clients of Merge1 archive messages into industry-leading archiving platforms including Microsoft Office 365 and Veritas Enterprise Vault, on-premise and cloud archives. Merge1 is also archive-agnostic and is customizable to archive messages from any messaging platform an organization deploys. The product's instant download and simple installation process allows organizations to quickly implement and maintain it as their easy-to-use message capture software.
Now in its seventeenth year, the Banking Technology Awards are a prestigious competition celebrating innovation and excellence in the use of IT within financial services. This year's competition saw over 120 entries from around the globe and was judged by a panel of industry experts. The winners were announced at a gala dinner held at the Tower Hotel in London on December 1 2016.
Pricing and Availability
Merge1 is priced per active seat for each source connector. For more information or to request a quote please contact a Globanet Sales Representative at Sales(at)Globanet(dot)Com or (888) 427-5505. Merge1 is currently available.
About Globanet
Globanet™ is a global information management firm with expertise in data migration, archiving and compliance. Founded in 1996, the company is a pioneer in archive migration and intelligent information governance. Globanet's portfolio of proprietary enterprise software include Globanet Merge1™, a software tool for archiving various message types beyond just email, and Globanet Migrate™, a leading data migration tool. Globanet also provides a broad range of IT services including system configuration and installation, data and archive migrations and eDiscovery consulting. Globanet is a multi-level certified partner of leading archive providers including Veritas and Microsoft. For more information about Globanet, please visit the Globanet Website, Globanet Blog or, follow us on Twitter or like us on Facebook.
©2016 Globanet Consulting Services. All Rights Reserved. Globanet Merge1 and other Globanet product names denoted herein are trademarks or registered trademarks of Globanet Consulting Services. All other company and product names are the trademarks or registered trademarks of their respective owners. All third-party information was taken as-is from public sources. This press release may include forward-looking statements and is based on Globanet's current beliefs and expectations and is subject to market uncertainties. If underlying assumptions prove inaccurate or market uncertainties arise facts cited in this press release may not be relied upon.