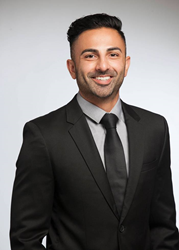 LOS ANGELES, Calif. (PRWEB) December 09, 2016
Lewis Roca Rothgerber Christie LLP announces that Sal Wakil has joined the firm's Los Angeles office as an associate in the Intellectual Property practice group.
Wakil brings an extensive array of experience in biotech research, medical devices, patent prosecution, PTAB proceedings, trademark and copyright law experience.
Prior to joining the firm he served as a patent agent preparing applications across multiple technological backgrounds. He also identified and analyzed issues while responding to Office Actions, and determined strategies for continuation and divisional applications. Wakil is fluent in Farsi and speaks conversational Spanish.
His biomedical engineering background includes some of the most well-known names in biotech, where he designed clinical and preclinical trials for medical devices and therapeutics. He has managed FDA audits, while further developing, validating and implementing cell-based bioassays.
Wakil also has experience in writing analytical procedures, validation reports and operating procedures for clinical immunology labs, and participated in the development and manufacture of materials used in phamacokinetic trials as part of FDA Phase I Clinical Studies.
About Lewis Roca Rothgerber Christie LLP
Lewis Roca Rothgerber Christie LLP is an Am Law 200 commercial law firm for handling complex matters in litigation, intellectual property, business transactions, gaming, government relations and other practice areas. Lewis Roca Rothgerber Christie offices are located in Albuquerque, Colorado Springs, Denver, Las Vegas, Los Angeles, Irvine, Phoenix, Reno, Silicon Valley and Tucson.