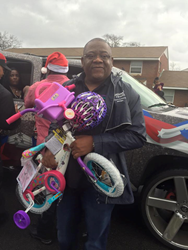 Virginia Beach, VA (PRWEB) December 08, 2016
December 15 Last Chance to Enroll in Individual and Family Health Coverage for January 1 Effective Date
Open Enrollment for 2017 Individual and Family health plans is currently ongoing until January 31, 2017, however, for plans to be effective January 1, 2017, the deadline to enroll is December 15, 2016. These plans are available for anyone in Virginia who doesn't have health insurance through a job, Medicare or Medicaid.
OptimaFit® Individual and Family health plans can be purchased directly through Optima Health, or through the government Marketplace. For its fourth year, Optima Health is offering a variety of OptimaFit® plans to fit different budgets, lifestyles and healthcare needs. Government tax credits may also be available for individuals and families with income below certain levels, when plans are purchased through the Marketplace.
Individuals and families are encouraged to learn more about OptimaFit® plans, which recently received Virginia's highest CMS quality rating, 4 out of 5 Stars.[1] In addition to making positive strides towards better health, making a decision to purchase health insurance will eliminate the government requirement to pay a fee for not having health insurance.
Optima Health Sponsors Christmas Toy Drive and Parade in Norfolk
On Saturday, December 10th, volunteers from Optima Health will take part in the annual Ricky Johnson and Friends Foundation Christmas for Kids Parade, on behalf of the Optima Family Care Medicaid product. This will be the seventh year Optima Health has supported the event, through sponsorship, volunteering and collecting toys, as part of its steadfast commitment to giving back in the communities where it serves.
2016 marks the 10th year of the Ricky Johnson and Friends Foundation Christmas for Kids Parade, and the first year it will take place in Norfolk. With its roots in Richmond, the event has expanded over the past two years to the Petersburg and Norfolk, Virginia areas to surprise children in local communities with toys for Christmas.
Optima Health Celebrates Quality Ratings for Medicare, Marketplace and Commercial Plans
The results are in from our country's leaders in health care quality improvement – the Centers for Medicare and Medicaid Services (CMS) and the National Committee for Quality Assurance (NCQA) – and Virginia-based Optima Health has achieved high ratings across the board for its Medicare, Marketplace and Commercial plans, as follows:

For 18 consecutive years, Optima Health has also achieved NCQA accreditation for its commercial HMO/POS health plans and Medicaid HMO product; and since 2013, for its Marketplace HMO health plans.[4]
About Optima Health
Optima Health, based in Virginia, provides health insurance coverage to approximately 450,000 members. With 30 years of experience in the health insurance arena, Optima Health offers a suite of commercial products including consumer-directed, employee-owned and employer-sponsored plans, individual health plans, employee assistance programs and plans serving Medicare and Medicaid enrollees. Its provider network features 26,000 providers including specialists, primary care physicians and hospitals across Virginia. Optima Health also offers programs to support members with chronic illnesses, customized wellness programs and integrated clinical and behavioral health services, as well as pharmacy management – all to help members improve their health. The company's goals are to provide better health, be easy to use and offer services that are a great value. To learn more about Optima Health, visit http://www.optimahealth.com.[5]
[1] CMS rates qualified health plans (QHPs) offered through the Marketplaces using the Quality Rating System (QRS), which is based on third-party validated clinical measure data and QHP Enrollee Survey response data. CMS calculates QRS ratings annually using a 5-star scale. QHP issuers contract with HHS-approved survey vendors that independently conduct the QHP Enrollee Survey each year. QRS ratings and QHP Enrollee Survey results may change from one year to the next. For more information, please see CMS' Health Insurance MarketplaceSM Quality Initiatives website at: http://www.cms.gov/Medicare/Quality-Initiatives-Patient-Assessment-Instruments/QualityInitiativesGenInfo/Health-Insurance-Marketplace-Quality-Initiatives.html.
[2] Optima Medicare is an HMO with a Medicare contract. Enrollment in Optima Medicare HMO is dependent upon contract renewal. Medicare evaluates plans based on a 5-Star Rating system. Star Ratings are calculated each year and may change from one year to the next.
[3] (NCQA) Private Health Insurance Plan Ratings 2016-2017 (http://healthinsuranceratings.ncqa.org/2016/search/Commercial/VA).
[4] NCQA Accreditation Letters, 1998-2016.
[5] The membership figure includes total membership in all group and individual insured products, Medicare Managed Care Plans, Medicaid and Famis Plans, and self-funded health plans issued or administered by Optima Health. Total Medical Membership based on Membership History Report, June 2016. Includes members from all Optima Health Licenses, products, Medicare and Medicaid products. Optima Health is the trade name of Optima Health Plan, Optima Health Insurance Company, and Sentara Health Plans, Inc. Optima PPO plans, and Medicare Managed Care Plans are underwritten or administered by Optima Health Insurance Company. Optima Vantage HMO plans, Medicaid, and Famis products are underwritten or administered by Optima Health Plan. Sentara Health Plans provides administrative services to self-funded plans but does not underwrite benefits. Employee Assistance Programs (EAP) are administered by Optima Behavioral Health Services, Inc. Wellness programs are administered by Sentara Health Plans. Source for provider network is Optima Health, Provider Status Report, February 2016.