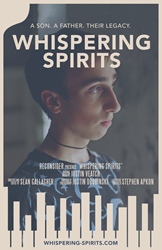 A well-made film that will be a good tool for increasing awareness about the danger of youth substance use
Yorktown Heights, NY (PRWEB) December 09, 2016
The Justin Veatch Fund announced Thursday that The National Council on Alcoholism and Drug Dependence, Inc. (NCADD) is recommending the film Whispering Spirits and its discussion guide for use by all of its affiliates in 29 states and the District of Columbia as an education tool in the war against teen drug abuse. NCADD is the oldest anti-addiction advocacy organization in America. NCADD President Andy Pucher calls Whispering Spirits "a well-made film that will be a good tool for increasing awareness about the danger of youth substance use." DVDs containing the film and a link to the discussion guide have been mailed to all 80 NCADD affiliates.
The need to educate youth and families about the dangers of drug abuse is underscored in a new report by The U-S Surgeon General. Last month, Dr. Vivek Murthy issued his office's first-ever report on the drug crisis in the U-S reporting 28,647 Americans died of opioid and heroin abuse in 2014. The report also said 20.8 million Americans suffer from substance abuse disorder with only 1 in 10 receiving treatment. One of the top priorities called for by the Surgeon General was enhanced public education to improve awareness as well as evidenced-based prevention policies.
Directed and produced by New York documentary filmmaker Sean Gallagher (Brothers of the Black List), Whispering Spirits tells the story of Justin Veatch, a musically talented suburban New York high school senior who died after snorting heroin in 2008. The documentary follows Jeffrey, Justin's father, as his family grapples with their devastating loss while reconnecting with him through the music he left behind. As a haunting tribute, the entire soundtrack of the film is comprised of Justin's original recordings. The film is accompanied by a discussion guide authored by Ellen Morehouse, Executive Director of Student Assistance Services Corp. in Tarrytown, a NCADD affiliate.
"Whispering Spirits uniquely approaches a subject often kept quiet in many suburban communities," said Suzie Ross, Co-founder of the Ossining Documentary and Discussion Series. "Our screening attracted a full representation of our community from school administrators, students, parents, health professionals, musicians, artists, to recovering addicts. It also allowed us to make the easy link to the array of health-related resources in our backyard."
Thanks to a grant from the media company Reconsider the film and its discussion guide are being made available to anti-drug coalitions and other organizations free of charge. Whispering Spirits can be viewed by everyone online by visiting http://www.whispering-spirits.com. Professionals can also request free copies of the film and download the discussion guide on the website.
The Justin Veatch Fund is a 501(c)3 organization created by the Veatch family to honor Justin's legacy by awarding scholarships, creating music programs for teens and promoting youth drug abuse awareness. Jeffrey Veatch, Justin's father, has presented his multi-media talk A Message from Justin to more than 25-thousand teens.