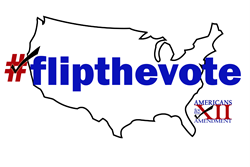 (PRWEB) December 12, 2016
We call on all concerned citizens to request of their Electors to consider the concerns and fears of millions of citizens before they cast their vote on December 19th. These rallies are meant to show America's unity and strength in defending the issues that are important to our country's future.
Building on the momentum of Electors who have already voiced their intentions of keeping Trump out of office, and millions who have signed petitions, AXIIA's rallies will add to the growing call for the Electoral College to protect our democracy from Trump.
Trump's erratic behavior and dangerous rhetoric have raised serious concerns for Americans all across the country, particularly for people of color, immigrants, LGBTQ citizens, women, Muslims, and Jews. Additionally, his own supporters are already becoming disenfranchised by his Cabinet nominations and his plans to repeal the Affordable Care Act and gut Medicare; and his conflicts of interest are unprecedented and unethical, at best. http://www.nytimes.com/interactive/2016/12/01/us/politics/trump-conflict-of-interests.html?_r=0
With a growing number of Republicans questioning Trump's judgment, and Clinton's 2.5-million-vote lead in the popular vote, it is clear that Trump does not have a mandate to govern. It is time for the Electoral College to perform their duties as Hamilton intended, and prevent a demagogue from occupying the White House.
Flip the Vote/Americans for the XII Amendment is a group of concerned citizens who met via the Facebook group, Pantsuit Nation. "We came together out of a sense of deep fear and frustration," said steering committee member Donella Comeau. "We simply could not sit back when the threat of a Trump presidency loomed."
National Marches are planned for Washington D.C in conjunction with #TURNOUT at 12 noon in front of the Lincoln Memorial as well as NYC, Ohio, Wisconsin and Florida. Details on links listed below. In addition, Flip the Vote asks for people throughout the country to rally at their respective statehouses on December 17th at 12 noon.
Press inquiries: shelleystile(at)mac(dot)com, 424-228-4770
Facebook details/invite: https://www.facebook.com/events/790546057751929/
https://twitter.com/XIIAmericans
Website: http://www.americansforthexiiamendment.com/