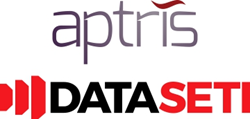 Our vendor partners (ServiceNow and HEAT Software) are better served by working with a company focused exclusively on their platform.
Rockford, IL (PRWEB) December 09, 2016
Ticomix, Inc. (parent company of Aptris), announced today the sale of its HEAT Service Management focused consulting practice to Dataseti, LLC, a Texas-based firm specializing in data reporting services and IT service management consulting.
Since 2008, Ticomix (and under the name Aptris since 2013) has been a leader in HEAT Software licensing, implementation, training and consulting services. Ticomix will remain focused on the Service Management space through Aptris, a Silver Partner of ServiceNow®.
Tim Ancona, CEO of Ticomix and Aptris, spoke of how the acquisition will benefit customers and other stakeholders:
"We are very excited about this sale for a variety of reasons. First, our customers are better served by a company focused exclusively on HEAT Software. Second, our employees are better served to focus exclusively on one ITSM platform, ServiceNow. Finally, our partners (ServiceNow and HEAT Software) are better served by working with a company focused exclusively on their platform."
Dataseti will be led by President Randall Reed, an 18-year veteran of the ITSM space, and Senior Consultant Chet Goodwin, who has over 10 years of experience in HEAT® software implementation and consulting.
About Ticomix
Ticomix provides technology solutions to businesses by fusing best practices with award-winning technologies in the areas of networking, data backup/recovery, customer relationship management, service desk management and a host of other customized software and hardware solutions. Ticomix also sells and supports leading technology brands such as Microsoft, VMWare, Nimble, ServiceNow and SugarCRM, and is a Cisco Premier Certified Partner. They are headquartered in Rockford, IL, with offices in D.C., Florida, New York and Wisconsin. For more information call 815-847-3400.
About Dataseti LLC
Dataseti LLC, located at 1710 S. Padre Island Drive in Corpus Christi, TX was founded in 2016 as a top level data and reporting consulting firm. Dataseti's vision is to become HEAT Software's top partner, with plans to grow its consultant base at exponential levels.
About Aptris
Aptris, a Ticomix Company brings together more than 16 years' experience in process consulting, training and implementation of leading ITSM solutions such as ServiceNow. As a ServiceNow Silver Partner, Aptris helps its clients raise the bar for world-class Service Management solutions, delivering smarter processes and smarter tools.