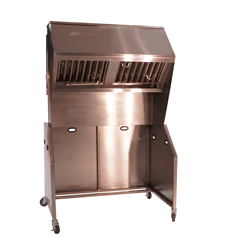 We are very excited to announce that our new 3' and 4' ventless hoods are available. These products are highly portable, efficient and perfect for smaller kitchens, such as those found in the fast-growing food truck industry.
Elyria, Ohio (PRWEB) December 12, 2016
HoodMart, Inc., the leading factory direct manufacturer of vented and ventless commercial kitchen exhaust hoods announced today the expansion of its ventless exhaust hood product line to include 3' and 4' models. The new models complement the Company's existing 2' ventless hood. As with all of the Company's exhaust hoods, the new 3' and 4' ventless hoods are manufactured in the US and feature the highest quality construction at low factory direct prices.
Ventless exhaust hoods provide greater flexibility in application than traditional venting hood systems as there is no need for venting ductwork. The hoods are exclusively used with electrical appliances, and can accommodate both open fryers and pressure fryers. These types of hoods are primarily used in situations where cost, ease of installation and portability are a customer's focus. Example applications include, kitchen expansion, single-cooking appliance kitchens and architecturally challenging structures, where the building construction does not allow for vents. Ventless hoods ideal for food trucks, convenience stores and fuel stations.
The Company believes that its ventless hoods are unique in the market due to their use of a triple-filter design, which is proven to be less expansive and easier to maintain as it only requires a charcoal filter replacement twice per year. In addition, the Company believes its patented technology allows these hoods to absorb more of the cooking odor versus the current available technology. HoodMart's ventless exhaust hoods are constructed with durable and polished 18-gauge stainless steel. Base units include removable sides for ease in cleaning. The Company's ventless exhaust hoods are equipped with a fully integrated Ansul-R wet chemical fire suppression system. Each system also includes a color-coded, lighted alert system to ensure that the system is running safely and efficiently. Interlocking start is a standard feature and does not allow the fryer or hood to operate independently.
Judy Thomas, National Sales Manager for HoodMart, commented, "we are very excited to announce that our new 3' and 4' ventless hoods are available. These products are highly portable, efficient and perfect for smaller kitchens, such as those found in the fast-growing food truck industry." Added Ms. Thomas, "Like all of our products, we pride ourselves on delivering first class equipment at factory direct prices with the highest levels of service."
Download our ventless hood system brochure Additional information on all of HoodMart's products can be found at http://www.hoodmart.com
For more information contact:
Judy Thomas
National Sales Manager
judy(at)hoodmart(dot)com
800.715.1014 Ext. 1509