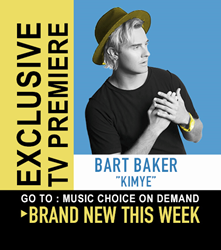 Los Angeles, CA (PRWEB) December 09, 2016
Award-winning parody video artist, songwriter, and viral sensation Bart Baker has released another new original song, "Kimye," from his upcoming debut album. This Saturday, December 10, Baker will premiere the companion lyric video online via his YouTube channel and social networks. Recently posting a preview clip on his Instagram, "Kimye" has garnered over 14,000,000 views in just the first few days since its release. Recently, Baker announced he is releasing a full-length album of all original material in January via his own label, in conjunction with independent label 26 Music, a division of 26 Entertainment. Baker previously released his debut original recording "Drake". "Kimye" and "Drake" are both available for purchase on iTunes and streaming at digital music services everywhere.
A new musical endeavor as a recording artist and a departure from his well-known satirical works on contemporary radio hits, Baker has been in the studio this year busily writing and recording an album that pays homage to and tackles various musical styles made famous by the very artists that recorded them: Drake, Justin Bieber, Calvin Harris, Taylor Swift, Future, Ariana Grande, Bruno Mars, and more.
"The songs have a subtle clever and comedic element to them - however, they're all extremely catchy and designed to be radio ready, mainstream pop music," says Baker. It's a celebration, more so than parody, of the artists pop culture watchers and pop music listeners, as well as myself, follow and love. As they say, 'imitation is the sincerest form of flattery.'"
"The song 'Kimye' is more a description of a type of person, than the combination of the person itself. It's now a word in our culture meant to live on in every day language," says Baker. "A 'Kimye' is someone in our lives that we know all too well and a person we all come across nearly every single day."
Music Choice will host the TV premiere of the lyric video for "Kimye" on Friday, December 9th on Music Choice On Demand and the Music Choice App. The song will also be played every hour on the hour for 24 hours starting Friday, December 9th at 12pm to Saturday, December 10th at 12pm on Music Choice's Hip-Hop and R&B Music Channel, one of Music Choice's Mediabase reporting channel stations. Additional airplay will be featured on Music Choice Max and Teen Beats Music Channels. Music Choice will also host a Musical.ly challenge for "Kimye" on its Muscial.ly page to help support the initiative.
Globally renowned as a parody artist and one of the foremost writer/director's of social media content in the digital age, the parodies Baker has created have amassed an astonishing 8.6 million YouTube subscribers while surpassing 2.5 BILLION PLUS video views spoofing popular artist tracks including "Dark Horse" (Katy Perry) 120+ million views, "Wrecking Ball" (Miley Cyrus) 96+ million views, "Anaconda" (Nicki Minaj) 86+ million views, "I Knew You Were Trouble" (Taylor Swift) 75+ million views, and "Problem" (Ariana Grande) 66+ million views, among many others. Currently, his YouTube channel hosts over 100 parody videos he's created and uploaded since making his debut in 2009.
With some artists admittedly fans themselves, several notable guest stars in his videos have included everyone from the iconic father of modern comics Stan Lee to the late comedian Joan Rivers, as well as adult film star Ron Jeremy to repeat offender Steve-O. In fact, Pitbull loved his own parody video so much he asked Baker to guest in the music video for his hit song "Fireball" (where he can be seen dancing right alongside Pitbull throughout).
Originally from Chicago and currently residing in Los Angeles, Baker caught the 'bug' early on studying film at the University of Miami. Always finding new lyrical inspiration in the music he heard on the radio, Baker's sharp wit coupled with his ambitious nature soon led him to becoming a self-taught musician learning everything himself from how to produce beats to writing songs, on to eventually directing and starring in his own videos. His most recent production, a parody of the Chainsmokers ft. Halsey hit "Closer" received 3,000,000 views in its first week. Earlier this summer, Baker was a featured speaker at Forbes Under 30 Summit, an event billed as "the greatest gathering of young entrepreneurs and game-changers in the world."
For more on Bart Baker, please visit him on the web at:
YouTube: http://www.youtube.com/bartbaker
Facebook: http://www.facebook.com/bartbaker
Twitter: @BartBaker
Instagram: http://www.instagram.com/bartbaker
Bart Baker media contacts:
Lauren Mele, Paki Newell, Jean Sievers
CO5 Media – Los Angeles
lauren(at)co5media(dot)com, paki(at)co5media(dot)com, jean(at)co5media(dot)com