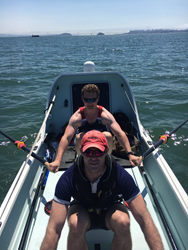 Why do it? It's part adventure, and the grit and determination that goes into every faucet of training
San Francisco, CA (PRWEB) December 09, 2016
Latitude 35 Racing, a professional rowing team competing in the 2016 Talisker Whisky Atlantic Challenge, (TWAC), announces Carlisle Companies Inc., a global diversified company, as its main sponsor for this year's race. Carlisle designs and manufacturers products in many industry sectors—energy, agriculture, mining, and aerospace, among others.
This year's TWAC competition kicks off in San Sebastian, La Gomera in the Canary Islands on December 14, 2016, and finishes in the English Harbor of Antigua in the Caribbean more than 50 days later. Last year, Captain Jason Caldwell and his Latitude 35 crew gained international fame by finishing the four-man race with a two-man crew. Two team members pulled out of the race early, but Caldwell and crewmate Thomas Magarov carried on—battling through raging storm with high winds, steady rain and 40-foot swells—to finish the race while setting a new American record.
"No question, without the generous support of Carlisle, it would have been an enormous challenge for the Latitude 35 Racing team to even participate in this year's race," said Caldwell. "From a logistics and financial perspective it's a tremendous undertaking preparing for a race like this and Carlisle truly stepped up and delivered."
"The TWAC race requires an enormous organizational effort, and the funds alone can keep a team from ever even reaching the start line," Caldwell went on. "But thanks to Carlisle, the team went from questions like "What's it going to take to race?" to "What's it going to take to win?" Carlisle's commitment to excellence, he added, further benefited Latitude 35 by "setting a standard of performance and follow through that the entire crew was committed to upholding."
Through Carlisle's investment, Latitude 35 commissioned the American Spirit a 29-foot top-of-the-line carbon fiber ocean rowing shell, for its second Atlantic crossing. Other essential equipment includes solar panels for energy, a water desalinator, a computer system with GPS, an auto-helm, and satellite phones. Indeed, with less than seven days away from this year's TWAC race, all four members of the crew, two Americans and two Britons, have stepped up to the challenge to become strong contributors to the 2016 team, training together to focus on building trust and camaraderie and more. Whether it is working out, rowing, spending time with sponsors or engaging with their charities, Latitude 35 Racing has remained focused on leadership, team building and achieving success.
Last year, the American Spirit covered 2,832 nautical miles, crossing the finish line at English Harbor, Antigua in 51 days, 8 hours and 32 minutes to set a new American Record. "This year's race is bound to be historic," Caldwell emphasized. "Avid fans from around the world can get to know the team, and even connect with us."
But why do it all again? "Why? It's part adventure, and the grit and determination that goes into every faucet of training that you can do even better—push yourself within limits to forge a team that simultaneously builds character and demonstrates real collaboration," Caldwell said. It also aligns with Caldwell's other life as co-owner of Latitude 35 Leadership, a team building and leadership development company. "These two passions of mine feed off each other," he explained. "Teaching leadership training and collaboration—and actually living it by racing—go together nicely."
Weather permitting, the official start date for the TWAC race is December 14th, 2016. The start line San Sebastian de La Gomera in the Canary Islands, Spain (28.0938° N, 17.1099° W); and the finish Line: Nelson's Dockyard, Antigua in the Caribbean (17.0083° N, 61.7645° W)
For more information on the Latitude 35 Racing and the TWAC, please visit the official race website: http://www.taliskerwhiskyatlanticchallenge.com and http://www.latitude35racing.com.
Email the Team: info(at)lat35racing(dot)com or contact land manager Tom Magarov: TMagarov(at)lat35racing(dot)com for ongoing updates.
When Caldwell is not racing he serves as the president of Latitude 35 Leadership, a leadership and team-building company that teaches hands-on leadership training programs to promote sustainable growth for business leaders, for companies such as Nike, Booking.com, Vanguard, and top business schools, like the Wharton School, the Darden School, and the Business School at Columbia University.