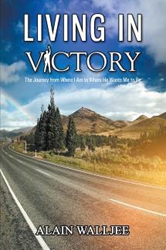 "This book takes an in-depth look at how Christians can improve their lives." - Robert Fletcher, CEO of Strategic Book Publishing and Rights Agency
(PRWEB) December 13, 2016
By following biblical principles, Christians can live a victorious life, says Pastor Alain Walljee. His book, "Living in Victory," begins looking at where Christians currently stand – frustrated because their respective realities don't seem to be consistent with the promises of the Word of God – to showing them the way to victorious living.
"It is my strong conviction that a Christian's physical and material circumstances have to change as a result of the presence of God inside of us individually, and in our homes and families," he says. "Evidence of God's presence will be seen in how attractive our lives begin to appear. This is the true test of the testimony of the Christian."
"Living in Victory: The Journey from Where I Am to Where He Wants Me to Be" doesn't promise a quick-fix solution, nor does it offer false expectation of instant change. What it does do is present a biblical view of transformation in the life of the Christian from a place of frustration to living in victory. The book is now also available in digital editions for all e-readers.
Watch the video at: https://youtu.be/yUn8GbR38M0
About the Author: First-time author Alain Walljee is a pastor with Victory Ministries International in Port Elizabeth, South Africa.
"This book takes an in-depth look at how Christians can improve their lives. We are pleased to announce its release," said Robert Fletcher, CEO of Strategic Book Publishing and Rights Agency.
LIVING IN VICTORY: THE JOURNEY FROM WHERE I AM TO WHERE HE WANTS ME TO BE (Kindle ISBN: 978-1-68181-935-8, ePub ISBN: 978-1-68181-934-1) is available for $9.99 at http://epubco.com/shop/products/living-in-victory-the-journey-from-where-i-am-to-where-he-wants-me-to-be-by-alain-walljee/ or
Amazon Kindle: https://www.amazon.com/Living-Victory-Journey-Where-Wants-ebook/dp/B01N58Q0EQ
Barnes & Noble Nook: http://www.barnesandnoble.com/w/living-in-victory-alain-walljee/1125171733?ean=2940157023591
and in multi-formats for other e-Readers through numerous vendors online.
The soft cover version (ISBN: 978-1-68181-934-1, $10.95) can be ordered through the publisher's website:
http://sbprabooks.com/AlainWalljee or at Amazon.com or Barnesandnoble.com.
WHOLESALERS: This book is distributed by Ingram Books and other wholesale distributors. Contact your representative with the ISBN for purchase. Wholesale purchase for retailers, universities, libraries, and other organizations is also available through the publisher; please email bookorder(at)sbpra(dot)net.