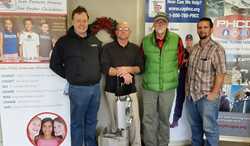 These guys are on the front lines stemming the flow of leaking pipelines
Alameda, CA (PRWEB) December 12, 2016
On Tuesday, December 6th, California Pipe Bursting Manufacturer TRIC Tools, traveled to Sacramento for two presentations. Sacramento's Underground Construction Supervisor Ed Quesada invited TRIC to discuss its technology and experience with other public works agencies across the country. TRIC's Sales Executive Jay Battin and CFO Michael Lien met with 10 members of Sacramento's lower lateral replacement team. Jay and Michael shared with the city videos of TRIC's X30, M50 and M100 in action across the world. TRIC shared the ease of using the TRIC system, TRIC's support library and discussed the city's future pipe replacement needs.
Later that afternoon, Jay and Michael made their first visit to California's State PHCC Headquarters. The PHCC is located at 1820 Tribute Road, Sacramento, CA and can be reached at (916) 640-0910. Jay and Michael met with Tim Rutledge, Jerry Threlfall, Debbie Baker and the PHCC plumbing students. For more information regarding how the PHCC can help your organization, please contact Tracy Threlfall (916) 640-0910 or email: tracy(at)caphcc(dot)org. While there, TRIC introduced third year journeymen students to TRIC's pipe bursting technology. "We always enjoy meeting the future leaders of one of the most important trades in the country," said Battin. He continued, "these guys are on the front lines stemming the flow of leaking pipelines."
TRIC Tools, Inc. is an infrastructure and environmental solutions company that provides proprietary technology, tools and services for trenchless rehabilitation and replacement of sewer, water, gas and other difficult to access underground pipes. TRIC holds five U.S. and International patents for its device and method of trenchless pipe bursting.
In 1997, TRIC established the standards and created the industry for lateral replacement (home sewer line) using its pipe bursting technology. TRIC continues to re-engineer its technology for new markets, expanding upon its domestic sewer lateral tools with the introduction of innovative solutions for mainline sewer, drinking water and gas distribution pipelines.
To learn more about TRIC or the trenchless industry please call 888-883-8742 or go to their website at http://www.trictools.com.