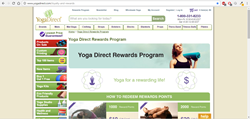 We're excited to launch a loyalty program to engage and reward our customers for multiple interactions on the website. - Ken Hammond, Digital Marketing Director of Yoga Direct's parent company, Shockoe Commerce Group.
Sunnyvale, CA (PRWEB) December 13, 2016
ShopSocially assists Yoga Direct, one of the yoga industry's premier B2C and B2B suppliers, to launch 'Yoga Direct Rewards program' on its website. Yoga Direct will be using the loyalty program to increase engagement on the website, build brand awareness and boost repeat sales.
Companies have never faced a greater challenge when it comes to customer loyalty. 2016 was the first year that shoppers made more of their purchases online than in traditional stores, according to the United Parcel Service Inc. (UPS) annual survey. With customers able to pick and choose between a vast range of global brands, companies that want to beat the competition need to think innovatively about how to reward shoppers for their loyalty and encourage repeat business. That is precisely what Yoga Direct has done by launching a modern day loyalty program with help from ShopSocially.
The 'Yoga Direct Rewards program' will reward points to customers not only for purchases but also for subscribing to Yoga Direct's email newsletter, writing a product review, uploading a photograph showing a Yoga Direct product in use and referring Yoga Direct to their family and friends thus facilitating 360 degree customer engagement on its website.
The tiered reward system means that Yoga Direct customers can receive greater rewards based on building up an increasing amount of reward points. The user who is on the basic bronze tier becomes silver once the customer has 2,500 reward points, then gold at 5,500 points and platinum at 17,000 points. At each stage, a point multiplier means that the customer receives additional rewards points (1.2X for silver members, 1.5X for gold and 2X for platinum). Points can be redeemed for vouchers ranging in value from $10 to $250.
"We're excited to launch a loyalty program to engage and reward our customers for multiple interactions on the website," commented Ken Hammond, Digital Marketing Director of Yoga Direct's parent company, Shockoe Commerce Group. "The innovative nature of the program and the tiered rewards are definitely going to be appreciated by our customers. We look forward to enhanced customer loyalty, increased referrals and some great social media coverage as a result of the program."
The ShopSocially loyalty program offers businesses an easy-to-implement solution that seamlessly integrates with their existing website. The program leads to increase in the customer life time value (CLV) by up to 5X, boost in average order value (AOV) and uplift in repeat purchase frequency.
"Yoga Direct should look forward to the benefits of the ShopSocially loyalty program, which is designed to boost repeat sales and customer retention," explained Samir Palnitkar, President at ShopSocially. "We are delighted to support Yoga Direct by helping them increase customer loyalty through our innovative program."
About Yoga Direct:
Yoga Direct manufactures and distributes mats, blocks, bolsters, yoga balls and similar products from YogaDirect.com and YogaDirect.co.uk. Since 1999, Yoga Direct has supplied customers directly as well as retail stores, YMCAs, fitness centres, etc. and offers great prices and convenience on the online site and has become a premier supplier within the industry.
Yoga Direct is a part of Shockoe Commerce Group of Companies. The Shockoe Commerce Group is a rapidly growing multi-channel retailer. They have multiple brands under their portfolio.
About ShopSocially:
ShopSocially is a SaaS-based, social, referral and loyalty marketing platform that delivers up to 40% more revenue by enabling an increase in new customer acquisition, engagement, conversion rate and retention. More than 500 global brands are using ShopSocially to grow their business via proven strategies such as referral marketing, visual commerce, customer loyalty, social login, social gamification, customer Q&A and more.
ShopSocially platform offers a comprehensive suite of marketing solutions which eliminates the need to implement multiple, inconsistent solutions and delivers a measurable ROI. Our fully managed services option ensures no additional work for your marketing or IT team.
ShopSocially has won several awards and recognition's for its innovative technology. To learn more how ShopSocially can help grow your business, please contact us at (650) 701-7759 or at http://www.ShopSocially.com.