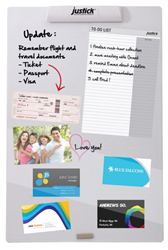 This achievement marks an important step for Justick, as we secure greater exposure in North America. We are excited about collaborating with such an innovative and reputable company –Dr Gerhard Ferreira, Justick CEO
Minneapolis, Minnesota (PRWEB) December 14, 2016
Justick award-winning electrostatic boards are now carried by Smead Manufacturing Company, a leading organizational products company in the United States.
"Justick International's products are now widely available across the United States thanks to our newly appointed distributor, Smead. This achievement marks an important step for Justick, as we secure greater exposure in North America. We are excited about collaborating with such an innovative and reputable company," says Dr Gerhard Ferreira, CEO of Justick.
Justick™ is the most advanced line of next generation bulletin boards, commercial signs and whiteboards available, offering numerous advantages to keep you organized. Simply place materials on the Justick™ electrostatic surface and they will stick without the use of pins, glue, magnets or tape. Justick™ is revolutionizing the way our clients present, teach, plan, advertise, display and communicate. Justick offers free templates on our website that can be used for a variety of purposes, and are aimed to assist you with organizing, planning, studying, strategizing game plans and so much more. To watch this video about how justick works visit https://www.youtube.com/watch?v=FZQZH3nFNNk .
The range of products offered by Justick is suitable for use in all areas of life. For educators, healthcare providers, business professionals, and more; Justick allows a unified workspace where a variety of materials can be organized and presented.
About Justick:
Justick has developed and engineerd the patented electro-adhesion technology to simplify workflow while promoting creativity, collaboration and productivity. Justick products are available globally and have received numerous awards for their innovative products. Among its accolades are winning the acclaimed XEROX innovation award as well as being featured on the NBC Today show. Internationally known as a pioneer of quality technology, Justick creates products to simplify your world and keep you organized. For more information about Justick visit us at http://www.justick.com
About SMEAD:
Smead Manufacturing Company, a leader in office filing products and records management systems, was established in 1906 in Hastings, Minnesota. Smead is a privately held, certified Women's Business Enterprise (WBE) offering thousands of organizational products for use in the home or office. For more information on Smead's high quality organizational products, including hundreds of environmentally friendly products visit http://www.smead.com