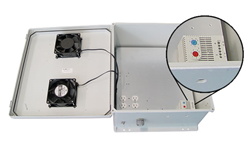 "Our new 1HFA-series enclosures take (heating and cooling systems) to the next level by providing separate heat and cooling thermostats that are user-adjustable in the field," said Ken Burgner, Product Manger
North Andover, Mass. (PRWEB) December 15, 2016
L-com Global Connectivity, a preferred manufacturer of wired and wireless connectivity products, announced today that it has released a new series of rugged, weatherproof enclosures with user adjustable thermostats.
L-com's 1HFA-series enclosures are constructed from molded, halogen-free, self-extinguishing, fiberglass-reinforced polyester (FRP) and are suited for hot and cold environments. These 120V AC industrial enclosures feature built-in heating and cooling systems with a user-adjustable thermostat that incorporates two separate thermostats, allowing independent control of heating and cooling. The thermostat provides a temperature range of +32°F to +140°F for both the heating and cooling systems.
The heat thermostat features a Normally Closed (NC) circuit. When the temperature falls below the thermostat setting on the heat adjustment dial, the circuit closes which turns on the heater. Once the temperature rises above the heat thermostat setting, the circuit opens which turns off the heater.
The cooling thermostat features a Normally Open (NO) circuit. The circuit closes and turns on the cooling fan when the temperature rises above the thermostat setting on the cooling adjustment dial. The circuit opens when the temperature is lowered down below the thermostat setting, which turns off the cooling fan.
"Currently, there are many enclosures on the market that include built-in heat and cooling systems. Our new 1HFA-series enclosures take this feature to the next level by providing separate heat and cooling thermostats that are user-adjustable in the field. This allows our customers to fine-tune the heating and cooling settings based on their individual requirements," said Ken Burgner, Product Manager.
L-com's 1HFA-series enclosures include an aluminum mounting plate with surge protected duplex 120V AC outlets and a terminal block for easy hook up to the externally provided line power. They are currently available in 14x12x7 inch, 18x16x8 inch and 20x16x11 inch sizes.
For more information about this release, please contact:
Peter McNeil
L-com Global Connectivity
17792 Fitch
Irvine, CA
978-682-6936 x1174
About L-com Global Connectivity:
L-com Global Connectivity, a preferred manufacturer of wired and wireless connectivity products, offers a wide range of solutions and unrivaled customer service for the electronics and data communications industries. The company's product portfolio includes cable assemblies, connectors, adapters, computer networking equipment, and custom products, as well as their HyperLink® brand of wireless products which include antennas, RF amplifiers, coaxial lightning and surge protectors, and NEMA rated enclosures. L-com's HyperLink® wireless products are designed for WiFi, WiMAX, SCADA, 802.11a/b/g/n/ac, RFID and Bluetooth applications. In addition to HyperLink® , L-com's other brands include MilesTek®, specialists in Military/Aeronautics connectivity solutions, Aiconics®, a leading manufacturer of electrical connector products and Point Six™ Wireless, pioneers in the design and manufacture of wireless sensors used in IoT applications. Trusted for more than 30 years, L-com, which is headquartered in North Andover, Mass., is ISO 9001: 2008 certified and many of its products are UL® recognized. For more information, please visit: http://www.L-com.com/.