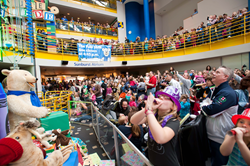 Indianapolis, IN (PRWEB) December 12, 2016
Drop by drop – North America's largest water clock will Countdown to Noon with bright blue water pouring through glass globes at The Children's Museum of Indianapolis. The annual New Year's Eve tradition invites families to experience the countdown to a new year at a reasonable time for little ones by watching water cycle through the two-and-a-half story water clock.
Bernard Gitton is the artist from France who built and assembled this gigantic clock in the middle of The Children's Museum of Indianapolis. The clock is made up of more than 40 glass pieces specially blown in factories throughout Europe. There are also 100 metal pieces, and 70 gallons of a water/methyl alcohol mixture making up the clock. A pump hidden below the base of the clock pushes the liquid into a reservoir tank at the top. From there, it flows into a glass scoop attached to a green neon pendulum. The scoop fills, the increasing weight causes its arm to dip and empty the liquid. The scoop then returns to an upright position, thus propelling the pendulum. The siphons produce vacuums in the tubes that pull a fixed amount of the bright blue liquid into the minutes column of discs every two minutes. Every hour, the minutes column empties, creating a vacuum that draws enough liquid into the hours column to fill one of the hour spheres. Gilton's towering clocks are found in major cities around the world, including: Paris, Berlin, Tokyo, and Rio de Janeiro.
Join in the music, confetti, and fun on Dec. 31, 2016, for countdowns to the New Year at noon and 1 p.m. Grammy-nominated songwriter and singer, Zak Morgan and his band will play in the Sunburst Atrium of the world's largest children's museum from 11:30 a.m. – 12:15 p.m. and from 12:45-1:30 p.m. and will lead the countdowns. Festive party favors will be distributed while supplies last and there will be several hands-on activities (available from 10 a.m. - 1 p.m.), including:
● New Year's Around the World - Send New Year's greetings to friends all over the world by learning pronunciations of foreign languages and matching each greeting to its corresponding country.
● Family Paper Time-Capsule - Recount favorite memories of 2016 by creating a time capsule. Snap a photo next to a big "Happy New Year" banner to add as a finishing touch to your 2016 capsule!
Also, enjoy one of the last few days of Jolly Days: Winter Wonderland. The museum's traditional Jolly Days exhibit will be open through Jan. 8, 2017. Families are invited to visit Santa through Dec. 24, and while in the exhibit, participate in pretend fishing, ice-skating, and holiday baking. There will also be a castle to climb and a magical globe that, with a push of a button, allows visitors to let it snow.
The museum offers free admission to good little girls and boys and their families on December 24, 2016. Please note the museum is open from 10 a.m. – 2 p.m. on that day. Lastly, there will be plenty of programming happening during this festive time so that families can always experience something new: Earn your elf ears, participate in "snowball" fights, sing along with The Mistletoes, and talk to animated winter characters. See the programs happening on different days by visiting the museum's online calendar.
Just a reminder that The Children's Museum wants to provide plenty of opportunities for visiting children and families to enjoy the museum during the holidays and winter vacations. Although it is closed most Mondays during the winter, we will be open Monday, December 19, 2016, Monday, December 26, 2016 and Monday, January 1, 2017 from 10 a.m. to 5 p.m. each day. Jolly Days Winter Wonderland is presented by Meijer and supported by Aquafina and Barnes & Thornburg.
About The Children's Museum of Indianapolis
The Children's Museum of Indianapolis is a nonprofit institution committed to creating extraordinary learning experiences across the arts, sciences, and humanities that have the power to transform the lives of children and families. For more information about The Children's Museum, visit http://www.childrensmuseum.org, follow us on Twitter @TCMIndy, Facebook.com/childrensmuseum and YouTube.com/IndyTCM.