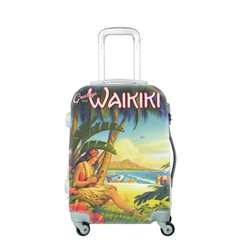 "Free Baggage Fees Paid For! To Alleviate The Pain While Traveling!"
Orlando, FL (PRWEB) December 13, 2016
Orion Travel Technologies, Inc.'s announced today that has released its new line of innovative interchangeable luggage that gives travelers the ability to change out the look of their carry-on luggage when they travel. When purchasing the new carry-on, Orion will pay the airlines luggage fees. Graphics consist of Vintage Travel Posters that travelers can inter-change from one to the other when traveling multiple times per year. Each Piece of the Orion Carry-On is made of durable Hard Shell Plastic allowing for ease of placement of each skin. All Skins are high gloss graphics that grab travelers attention and can be easly spotted while traveling and need to find family members.
Orion wants participants two wheel luggage for the largest trade in of unwanted luggage! Each participant is asked to take a picture at a Good Will store or a Salvation Army. Orion will send each particpant a Gift Card worth $50 that will go towards each participants baggage fees.
"Orion believes US travelers need a break this holiday season from rampant airline fees. Orion in turn will give back," said Gary German, Orion's Founder.
About Orion. Orion is an international corporation that is currently in 15 countries worldwide. Orion is based in Orlando, FL and in Honolulu, HI with ten patent pending travel technology platforms that are positioned for global travelers. Orion Travel Tech, Inc. has over 12 digital footprints under its aggressive Travel Ecosystem. Orion has everything TRAVEL under-one-roof that gives most travelers around the globe an all-inclusive destination for all their travel needs. Reach Gary German, the Founder of Orion Travel Tech, Inc. directly at 407-574-6649-office, 407-496-4862-cellular or via email-gary(dot)german(at)oriontraveltech(dot)com