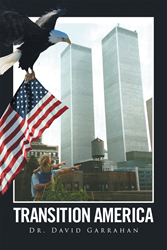 KINGSPORT, Tenn. (PRWEB) December 12, 2016
With a newly elected president and a swiftly forming Cabinet, the U.S. has reached a critical juncture in its national agenda. In his new book, "Transition America," Dr. David Garrahan, a retired education administrator, takes a deep dive into topics at the forefront of America's political needs, such as the economy, foreign policy, and military strategy.
In the book, Dr. Garrahan analyzes the roots of terrorism and puts forth a comprehensive management plan. Further, the author addresses the decline in education; outlines an available healthcare program; and details a plan to make Social Security solvent. In revitalizing the economy, Dr. Garrahan focuses on the reduction of corporate and personal income taxes to rebuild the country's infrastructure and return to a manufacturing-based economy.
"The diagnosis of our country's ills is accurate and comprehensive," Dr. Garrahan said. "Our economy is in decline, our military is in decline, American education is in decline. The proposed solutions offer food for thought and direction."
As President-elect Donald Trump makes his transition into the White House and unfolds his plan for his first 100 days in office, "Transition America" breaks down and offers solutions to a government in need of change.
"Transition America"
By Dr. David Garrahan
ISBN: 978-1-52-454034-0 (hardback); 978-1-52-454032-6 (paperback); 978-1-52-454033-3 (electronic)
Available at the Xlibris Online Bookstore, Barnes & Noble and Amazon
About the author
Dr. David Garrahan studied at institutions such as Rutgers, Cornell, Columbia and New York University. A long-time educator and retired education administrator, Dr. Garrahan originally began writing "Transition America" as a letter to his local newspaper, but ended up composing a book when the letter became too lengthy. He currently resides in Kingsport, Tenn. To learn more, please visit his website at http://www.drdavidgarrahan.com.
###
Review Copies & Interview Requests:
LAVIDGE – Phoenix
Danielle Grobmeier
480-998-2600 x 614
dgrobmeier(at)lavidge.com
General Inquiries:
LAVIDGE – Phoenix
Kalin Batts
480-998-2600 x 524
kbatts(at)lavidge.com