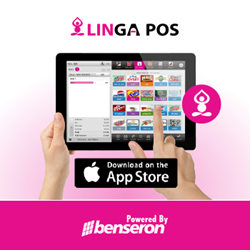 "Linga POS was created with the intention of bringing Zen back to business owners," Haytac says. "It is a serious competitor in the iPad based MPOS market."
(PRWEB) December 12, 2016
Linga POS is the first ever free cloud-based iPad POS System that is custom-tailored for restaurants and particularly franchises.
"Linga POS is a state of the art solution that combines some of the most sophisticated cloud technologies of Google™ and Amazon™ with the world's best known brand of consumer devices - Apple™," says Benseron's CEO Onur Haytac. "Our big-data ready database structure allows auto-scaling as well as unlimited historical data storage for predictive and prescriptive analytics. It's a game changer."
Linga POS can scale from single store, single-device to multinational franchise with thousands of branches and unlimited iPads. It caters to the global marketplace with more than 30 language options and supporting all world currencies, integrated online ordering and marketing tools. Unlike most traditional POS systems, set-up time can be measured in minutes, not days or weeks.
Linga POS also integrates with Internet of Things (IOT) devices like security cameras, thermostat controls, door entry systems and similar Smart Technology. Linga POS has full integration with Google Nest™ devices that will provide customers the convenience of managing their business remotely.
Retailers and restaurant management executives will also benefit from other advanced features such as inventory management.
Linga is derived from a Sanskrit word meaning "divine energy". "Linga POS was created with the intention of bringing Zen back to business owners," Haytac says. "It is a serious competitor in the iPad-based MPOS market."
To learn more about Linga POS, visit LingaPOS.com or stop by at the IFCE hosted at the Abu Dhabi National Exhibition Centre (ADNEC), Hall numbers 3 and 4, Booth L65/L70 on December 14-15th, 2016.
About Benseron, Inc.
Benseron is an enterprise software company, providing scalable cloud-based point-of-sale systems (POS), merchant services and other cost effective business solutions to the restaurant, retail and business community. Established in 2004, the innovative technology company is consistently engineering their products to allow their customers to provide the highest quality in customer service, while reducing costs to achieve the highest possible profit.
For more information, please visit Benseron.com.