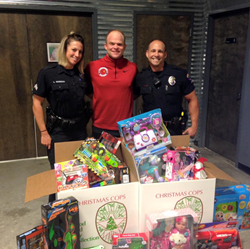 Frisco,Texas (PRWEB) December 15, 2016
The founder of Firehouse Movers, who happens to be local firefighters, said they are very excited about the prospect of collaborating with a well-known organization that has been helping disadvantaged families in this locality for nearly three decades.
This only shows that profit-oriented entities also have the time and resources to devote to less privileged people and make their kids happy even for only once every year.
The act of generosity for this business firm and humanitarian organization means one thing; They want to make people happy without asking for anything in return. This desire to help others has earned Firehouse Movers and Christmas Cops a lot of praises from people living in Dallas County and adjacent areas. Benefactors are so grateful because of the joys that a profit-oriented institution and charitable group give them during this most important time of the year.
Interested donors can check out the website of Firehouse Movers Incorporated at http://firehousemovers.com/best-movers-frisco-texas/
Representatives of the company will be on hand to accept donations.
Outstanding Moving Services
Services of Firehouse Movers Incorporated include local moves, full service moves, office moves, moving supplies, and apartment moves. This moving firm provides solutions for households planning to move across the street, within the neighborhood or across the State of Texas.
The destination can be a residential unit or office building. It really does not matter because the primary goal of Firehouse Movers is to help alleviate the pressures associated with moving. It is not really an impossible because the team is experienced and ready to make each step of the relocation as smooth as possible. This includes packing all the boxes, loading them to the containers, transporting, and unloading all cartons.
Firehouse Movers strives to ensure professional services and 100 percent satisfaction. The firefighter-owners believe these can be achieved with the help of training, modern equipment and competence acquired through the years. The team will make sure that belongings of their customers are handled with absolute care regardless of the requirement. It can be transporting packages from one point to another; full-service relocation; business, residential, or industrial moves.
The local firemen know how important it is to secure possessions of other people. They make sure that all items arrive at their destination in excellent condition. Hiring experts to perform this kind of task frees the homeowner of worrying about the relocation process and focus instead on other aspects of moving to the family's new home.
Handle all Tasks
Firehouse Movers will take care of details included in the relocation checklist. The client needs to meet with the team ahead of schedule and on scheduled dates prior to the actual move. Once a contract has been signed, the homeowner must ask all questions related to the relocation. Firehouse Movers will coordinate dates for packing of boxes and assign movers as well as drivers for the big day. Representatives of the company will make sure to communicate with customers from time to time. This is one way of avoiding last-minute issues.
Among the responsibilities of the Firehouse Movers team are the following:
1. Provide consistent consultation to identify availability dates along with the number of movers needed for the entire relocation.
2. Supply durable boxes of any size and packing materials such as tape, ropes and labels. These are part of their moving services.
3. It maintains 32-foot trailers that can accommodate boxes of the clients.
4. Unload the boxes and see to it that everything is in perfect condition.
5. Firehouse Movers teams are very particular about time management. They inform families in advance if there will be some delays.
6. They treat your things as if these were their own so losses or damages will certainly not become a concern.
According to client testimonials published online at http://firehousemovers.com/best-movers-frisco-texas/, Firehouse Movers is the best moving company in this place. One particular testimonial stated, "When we moved from a 2nd floor apartment to our new condominium, our real estate person recommended this company. They were fast. We had everything packed. They were able to load all cartons probably in only ½ hour considering we had more than 100 boxes. We went to another location to get the washer, dryer and refrigerator before heading to the condo to drop off all these things.  The whole job was completed in less than four hours."
About Christmas Cops
Christmas Cops was established and run by employees of the Plano Police. It was first organized in 1984 by a few benevolent police officers who realized the value of giving needy families some form of generosity especially during Christmas. They place boxes in business establishments, fires station, libraries, and public facilities all over the city to collect toys, goodies (food), new coats, and various household items. The officers and Santa's helpers distribute these items to said families just before Christmas Day.
The number of families that Christmas Cops serve and gifts given continue to increase each year. Families receive two to three months supply of food; toys for children; and, coats to keep these people warm during winter. In 2008 alone, the philanthropic organization was able to help more than 300 families and 659 kids. Christmas Cops hopes to get more generous souls to support its noble initiatives.
About Firehouse Movers
Firehouse Movers is professional moving company based in the Fort Worth Area (Dallas) owned by firefighters. It has a team of fully-trained moving experts and 10 trailers so the company will be able to answer all the needs of their clients. It is composed of committed, reliable, friendly, and hardworking individuals who will be there from the beginning until everything is finished.
The company's telephone numbers are 972-412-6033. Residents can ask for a free estimate of different categories for moving services.