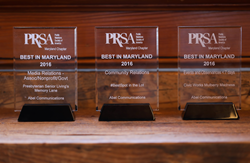 I couldn't be more proud of our team's efforts in doing the kind of great work that gets noticed and, most importantly, drives business results for our clients
Baltimore, MD (PRWEB) December 09, 2016
Abel Communications is proud to announce that it has been honored with six awards at the 2016 Public Relations Society of America's (PRSA) Best in Maryland Gala.
Nominated in eight categories, Abel Communications won three Best in Maryland Awards and three Awards of Excellence, highlighting the firm's dedication to quality work for its clients.
Abel Communications was awarded the top honor, Best in Maryland, in the following categories:

Community Relations - #BestSpot in the lot (Medifast)
Events and Observances – Mulberry Madness (Civic Works)
Media Relations: Association/Nonprofit/Government – Memory Lane (Presbyterian Senior Living)
In addition to these wins, Abel Communications was awarded 'Awards of Excellence' in the following categories:
Podcast – Through the Firewall (Force 3)
Videos – CARCHEX culture video (CARCHEX)
Blogs – STX Blog (STX)
"I couldn't be more proud of our team's efforts in doing the kind of great work that gets noticed and, most importantly, drives business results for our clients," said Greg Abel, President and Founder of Abel Communications. "I'm also extremely proud of the diversity of awards we've won -- from media relations to blog development, video, and community relations -- we have established ourselves as an integrated firm that delivers at a high level."
Held at the Belvedere Hotel in Baltimore, PRSA's Best in Maryland Awards brought together hundreds of communications professionals to recognize award-winning campaigns and the 55th anniversary of the event. The evening featured a keynote from National Geographic Editor-in-Chief, Susan Goldberg where she discussed how National Geographic magazine navigates the dynamic field of digital media.
About Abel Communications
Abel Communications is a results-driven public relations firm specializing in campaigns to support and promote clients in professional services, consumers products, health and wellness, and non-profit organizations. We offer a range of services including comprehensive communications planning, media relations, photo and video, social media and strategic content development. Abel Communications' clients include UnitedHealthcare, Medifast, STX, MRIS, 1st Mariner, Force 3, and CohnReznick. For more information, visit http://www.abelcommunications.com