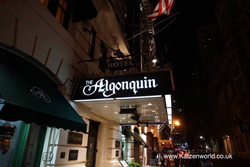 The Algonquin Hotel, a hotel with history and a resident cat.
USA, New York (PRWEB) December 12, 2016
Most recently the team at Katzenworld had the opportunity to meet Matilda the resident cat of The Algonquin Hotel in New York.
The luxury hotel is located near famous Times Square in New York and has been host to many famous guests over the years.
Steeped in local artistic, literary and theatrical history the hotel is also home to a number of traditions such as supporting struggling writers and keeping a cat who has the run of the hotel (both courtesy of Frank Case who was one of the original owners). It's was the second tradition that drew the Katzenworld team to this specific hotel for a chance to find out about the legend of the Algonquin cat and to meet the current resident feline (more about that later).
Over the next few weeks popular online magazine Katzenworld will be reporting on the meeting with the hotel's cats and the cats' human "servants" and provide readers with an insight on what to expect from a visit at the hotel!
In their initial first part in the series of posts about The Algonquin Hotel readers will be able to get an initial idea of the hotel's history, interior as well as the variety of dishes available in the breakfast restaurant.