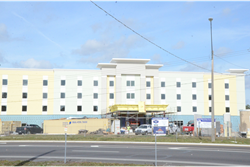 Naples, FL (PRWEB) January 17, 2017
The new Hampton Inn in Plant City progresses towards opening planned for March. The guest rooms are currently taking shape. The Florida hotel is located off I-4 and Thonotosassa Road exit. The exit is along the growth corridor between Tampa and Orlando and about 30,000 cars get off the hotel's exit daily. Plant City is home to the iconic Florida Strawberry Festival.
The Hampton Inn has 89 guest rooms as well as a 500 square-foot meeting room, an outdoor pool, a 24-hour fitness center for guests and an in-house, coin-operated laundry facility. The hotel covers 49,900 square feet on 1.66 acres of land. All guests are also welcome to free Wi-Fi and complimentary breakfast.
Management will be seeking candidates for hotel staff soon. Naples Hotel Group, a leading hotel management and development company, has the contract is overseeing construction and management with owners Henderson Properties, LLC. As part of the contract Naples Hotel Group will manage all aspects of the opening and operations. The general contractor for the building is Pinkerton & Laws.
For more information or media inquiries, please contact Brittany Bou-Sliman at brittany(at)napleshotelgroup(dot)com or 239-206-4273.
About Naples Hotel Group
Naples Hotel Group is a hotel development and management company founded in 1999. NHG has achieved superior results and has a proven ability to enhance the performance of hotels using their experience, responsiveness and extensive resources. NHG, based in Naples and Orlando, prides itself on building long-term relationships with quality people and organizations. To learn more visit,
http://www.napleshotelgroup.com.