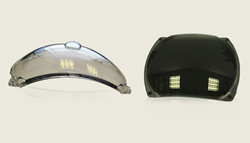 Photochromic product Manufacturing expert - WeeTect
Shanghai,China (PRWEB) December 12, 2016
WeeTect, a global manufacturer photochromic lenses and visors for OEM/ODM businesses, today announced the latest in its series of photochromic accessories, WeeTect Photochromic Goggles (WPG). Business partners and clients can order for these photochromic goggles directly from the main factory in China.
WeeTect uses both injected photochromic lens and flat photochromic sheet to produce its series of the most trusted photochromic goggles. This is a technological breakthrough that aims to solve all safety problems caused by the ultraviolet radiation.
"With our extensive research in the photochromic industry, WeeTect has introduced a cutting edge technology that can be adopted to a wide range of outdoor activities such as skiing, snowboarding, biking and riding," said Taylors Lei. "We are also open to co-development project with all stakeholders in the photochromic industry with a view to provide a trusted safety solution."
Features of WeeTect Photochromic Goggles
The distinct features of this new photochromic goggles include:
Superior photochromic technology
Like other series of photochromic products, WeeTect has adopted two main manufacturing processes:
Photochromic co-molding; where a photochromic film and polycarbonate lenses are co-injection molded to form the desired photochromic goggle. The photochromic substrate is protected from a number of environmental conditions that may cause degradation.
Photochromic coating; WeeTect uses a special material to apply the photochromic coating on polycarbonate goggles. This provides a permanent bonding between the material and the photochromic coating.
Better photochromic performance
These WeeTect Photochromic goggles have a super high VLT when indoors. They tint faster on exposure to the ultraviolet light (sunlight radiation) and slowly change to the original lens color in the absence of ultraviolet radiation.
WeeTect is also in the process of exploring different photochromic ingredients. This aims to achieve varying degrees of tints when the photochromic goggles are subjected to different environmental conditions.
Iridium and anti-fog coating to improve performance/reliability
WeeTect is a company that holds the know-how in the photochromic technology, anti-fog, anti-scratch and anti-glare technologies. The WeeTect Photochromic Goggles feature a wide range of technologies to improve performance in diverse outdoor activities.
Notably, the company has introduced WeeTect photochromic polarized goggles. They protect the eyes from ultraviolet radiation and blurred vision due to glare.
Availability of WeeTect Photochromic Goggles
The product is currently available for OEM/ODM clients. They can place orders directly from WeeTect's official website.
WeeTect intends to roll out this new product to its distributors in Europe and North America before the end of the year and early 2017.
WeeTect also published a complete guide for photochromic technology here : http://www.weetect.com/photochromic-guidebook/
About WeeTect
WeeTect Material Limited is lens & visor manufacturer for OEM businesses. Since 1993, the company has invested in R&D, producing a range polycarbonate coating solutions. It has a line of products such as: visors, photochromic lenses, face shields, welding helmets, mirrors and anti-fog solutions; with the most recent being the WeeTect Photochromic Lenses (WPL).