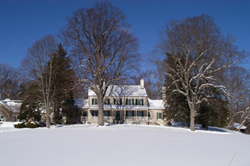 White Plains, New York (PRWEB) December 12, 2016
It may be cold outside, but there are plenty of hot happenings in the Hudson Valley this December.
"From holiday themed movies and shows to terrific hotel deals, there is so much to see and do in Westchester County," said Westchester County Executive Robert P. Astorino. "Come explore the Hudson Valley this winter."
Family Fun: Holiday Shows and Events For All Ages
Bring the family to the beloved holiday classic, Frank Capra's It's a Wonderful Life at the Jacob Burns Film Center. Whether seeing it for the first time or 50th, audiences will be moved by James Stewart's compassionate and heartbreaking portrayal of George Bailey. The timeless film also features great supporting turns from legendary Hollywood figures such as Lionel Barrymore, Donna Reed, and Gloria Grahame. It's a Wonderful Life runs Friday, December 23rd through Thursday, December 29th. Tickets and more information available at https://burnsfilmcenter.org/booking/its-a-wonderful-life/
Check out Christmas Inn at the Westchester Broadway Theatre running now through December 23rd. Enjoy an evening of holiday music, laughter and a poignant story filled with Christmas magic. The show features favorite Christmas songs including an old-fashioned sing-along. Visit http://www.broadwaytheatre.com/index.php? For tickets and show information.
Celebrate New Year's Eve at Winter Wonderland at a special family friendly time. Special Performances, a ball drop and a pyrotechnic show will begin at 8 p.m. to ring in the New Year. Visit http://www.wwinterwonderland.com/.
Read and Relax
The grand opening of Barnes & Noble Eastchester took place earlier this month in time for the holidays. Barnes & Noble has partnered with AvroKO and The Branstetter Group, leaders in the restaurant and hospitality consulting business, to design the new Barnes & Noble Kitchen. At 2,600 square feet, the Barnes & Noble Kitchen offers an all-day menu, featuring flavorful, shareable dishes with something for everyone. The Kitchen offers a large selection of premium wines by the glass or the bottle. It will also offer locally sourced craft beer.
Barnes & Noble Eastchester is located at the Vernon Hills Shopping Center on 680 White Plains Road in Scarsdale, NY. Customers are encouraged to find Barnes & Noble Eastchester on social media including Facebook, Twitter and Instagram, by searching the handle, @BNEastchester.
Holiday Dining
Enjoy fine dining at the new Mediterraneo of White Plains. Highlights of the restaurant include their signature open kitchen and wood-burning oven, a glass elevator and an inviting private dining room that seats up to 30 people.
Executive chef and Westchester native Albert DeAngelis brings signature dishes to the restaurant including wood-oven cooked pizzas, branzino and chicken, homemade pastas and farm to table seafood and vegetables. The menu is updated with seasonal offerings to continuously excite diners with unique dishes and desserts. The wine list is extensive and carefully selected to pair with menu offerings. For more information, visit http://zhospitalitygroup.com/mediterraneowhiteplains/
Explore Parks and Gardens
Untermyer Gardens will host its annual Grand Holiday Illumination at the Walled Garden. The Walled Garden will be brilliantly illuminated with festive holiday lights, highlighting the rich architectural and horticultural elements of the garden. Last year's Illumination was a tremendous success, and the number of lights will be doubled this year. Beautiful holiday music in the Jewish, Christian, Muslim and Zoroastrian traditions will be played.
The Illumination will take place every night from now through January 8th from dusk until 8:00 p.m. Various community groups will serve hot chocolate on weekend and other evenings. For more information, please visit http://www.untermyergardens.org/
John Jay Homestead State Historic Site will offer brand new holiday tours of its historic house from Thursday, Dec. 1st through Saturday, Dec. 31st. Tour the 1820s retirement home of Founding Father John Jay and discover what the winter holiday season would have been like for Jay and his family. Period decorations, historic foods and candlelight help celebrate the season. In the gallery, a specially curated exhibition will feature holiday-themed artifacts used by multiple generations of the Jay family. This is the first time in 20 years that the Homestead has been decorated for the holidays. Tours are available Thursday, Friday and Saturday at 1 p.m., 2 p.m. and 3 p.m. Tickets are $7 for adults; $5 for students and seniors; free for children 12 and under, as well as Friends of John Jay Homestead members. No reservations required for the regular holiday tours.
Special Candlelight House Tours will run from Tuesday, Dec. 20th through Thursday, Dec. 22nd. Each evening, tours will be offered at 5, 5:30, 6, 6:30 and 7 p.m. Admission for candlelight tours is $15 for adults; $12 for seniors, students and Friends of John Jay Homestead members; and $5 for children. Reservations are required for these tours and can be made at http://www.johnjayhomestead.org/events.
In addition to the house tours, John Jay Homestead will also be hosting a Holiday Family Crafts drop-in program on Saturday, Dec. 17th from 1 to 3 p.m. Families can create four different winter crafts, as well as enjoy hot cocoa and cookies in the site's decorated 1920s ballroom. Admission is $20 per family, free for family level members of the Friends of John Jay Homestead.
Friends of Lasdon Park & Arboretum presents Holidays on the Hill each Friday, Saturday and Sunday through December 18th. Enjoy the Holiday Train Show covering more than 100 feet of track surrounded by popular NYC landmarks. Enjoy a wagon ride and holiday story time with the family. Purchase your tree on site where proceeds from the donations go to the Base Camp Westchester a non for profit organization which assists veterans find homes and jobs. More information is available at http://www.lasdonpark.org/events/holiday-on-the-hill/.
Stay and Play
Escape to Doral Arrowwood and take in 114 acres of winter scenery. Enjoy hot apple cider near the fireplace and in the evening set out for nearby Kensico Dam to experience Westchester's Winter Wonderland. The Winter Wonderland package is available Thursdays, Fridays, Saturdays and Sundays through January 1st. Find out more at http://www.doralarrowwood.com/westchester_resort_packages/Holiday_Fun.
The brand new Cambria hotel & suites White Plains® is an all-suite hotel located in downtown White Plains, NY, which is in the heart of shopping, restaurants and other attractions. Start your morning energized with breakfast at Reflect, the contemporary bistro that offers a casual gathering and dining area serving breakfast, lunch and dinner and full-service bar, including a barista bar. Visit http://www.cambriasuiteswhiteplains.com/ for more information.
The Sheraton Tarrytown offers special packages this winter. A dynamic family weekend awaits this holiday season at LEGOLAND® Discovery Center Westchester. Reserve this experience and indulge with Breakfast for four (two adults and two children), four passes to LEGOLAND Discovery Center and a parking pass for Westchester's, Ridge Hill. Book online, or call 866-716-8134 and ask for the LEGOLAND package. Enjoy a weekend in the historic Hudson Valley with a visit to Stone Barns Center For Food and Agriculture. Reserve a getaway today and experience rates from $284 per night for a family of four plus a full breakfast for family of four - two adults and two children (12 and under) and four Stone Barns tour passes - two adults and two children (12 and under). Visit http://deals.sheraton.com/Sheraton-Tarrytown-Hotel-1428/special-offers?language=en_US for more information.
For the latest events and happenings in Westchester, log onto http://www.visitwestchesterny.com, like us on Facebook (facebook.com/westchestercountytourism), follow us on Twitter @westchestertour or call 1-800-833-9282. To view the Westchester County Destination Guide, please visit http://bit.ly/2cCFErf
About Westchester County Tourism & Film
Tourism & Film is Westchester County's official destination marketing organization. Its mission is to generate economic benefits by enhancing the image and promoting Westchester County as a premier business and leisure destination in the Hudson Valley region. The Tourism & Film Office in Westchester County is a division within County Executive Robert P. Astorino's Office of Economic Development.