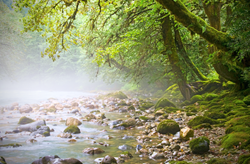 Firewise Certified Communities in Western North Carolina
Asheville, North Carolina (PRWEB) December 10, 2016
Help is on the way to the victims of the WNC fires and Tennessee wildfires. The Chimney Tops 2 fire in Gatlinburg has been blamed for 14 deaths. More than 17,000 acres of the Great Smoky Mountains Park have been destroyed. Investigators believe the fire was intentionally set. Several families in Tennessee have seen their homes and valuables destroyed in a matter of minutes.
Meanwhile, NC mountain communities are seeing some relief. Firefighters have been able to contain the majority of the WNC fires and free up resources to help battle the Chimney Tops 2 fire. Hundreds of Tennessee residents had to evacuate their homes as firefighters work laboriously to contain the blazes.
While investigators say arsonists are responsible for some of the fires, the wildfires in addition to the dry climate created a dangerous combination and left residents of Tennessee and NC mountain communities little time to gather belongings before fleeing the area. According to the National Interagency Fire Center, there were 68,000 wildfires last year. That's why The National Fire Prevention Association has created a Firewise Community plan to encourage homeowners to be proactive in protecting their lives and properties.
Real Estate Scorecard applauds The Coves Mountain River Club for achieving Firewise certification. They are among a small handful of NC mountain communities that have been proactive and have met the 5-point guideline to be certified. A Firewise Community is aware of its risk for a wildfire and has come up with a plan of attack. With unpredictable weather forces like drought and El Nino, having a plan in place can make a big difference for homeowners. Also is having a strong sense of community and volunteers. Being surrounded by water helps too! Having four waterfalls and five miles of frontage on the Johns River adds even more value to living at The Coves.
The Coves Mountain River Club is located in the foothills of North Carolina at an elevation of 1,100-1,700 feet. Amenities at the gated community include a mountaintop lodge, infinity-view swimming pool, hot tub, fitness center, full service equestrian ranch, community parks and gardens and more. While there's no place on earth immune to natural disasters, there are preventative things folks can do to minimize the damage.
Real Estate Scorecard is thankful to the 5,000+ firefighters from across the country reportedly have joined in to battle the WNC fires and the Chimney Tops 2 wildfires and are confident the end is near. When folks are comparing NC mountain communities, be sure to ask if the community is a certified Firewise Community like The Coves Mountain River Club.
Call The Coves Mountain River Club directly at 828-754-0700 to schedule a tour.
About Real Estate Scorecard:
Real Estate Scorecard writes unbiased real estate reviews providing in-depth information about popular gated communities in Florida, Georgia, the Carolinas, Tennessee and Central America, all in an effort to help people discover where to retire in the South.
Website: http://realestatescorecard.com