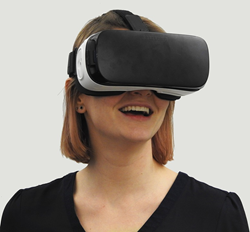 The Washington based vein clinic notes that, in addition to providing patients with cutting-edge vein treatment options, they are proud to be a leader in terms of providing a calming and comfortable experience...
Olympia, WA (PRWEB) January 20, 2017
Northwest Vein & Aesthetic Center has begun offering a novel new Virtual Reality (VR) anxiety device. The medical group describes the system as state-of-the-art device which reduces anxiety and fear and helps patients to relax during their vein procedures. The Washington State based vein clinic notes that VR technology serves as an additional tool that increases patient satisfaction and improves outcome.
Northwest Vein & Aesthetic Center describes the Virtual Reality device as a fully-immersive experience that helps patients relax by placing them in a calming virtual reality environment. During the VR-enabled procedure, patients wear a headset that allows them to see and hear a virtual world that soothes calms and even reduces awareness of any uncomfortable sensations. Patients choose from several stress relieving VR worlds, allowing them to have more power and control over their experience throughout the procedure. The Washington State based vein clinic also notes that the extremely safe and easy to use VR system is used in conjunction with local anesthetic, avoiding the need for deeper anesthesia leading to decreased risk of complications and faster recovery. The VR system offers a number of tailor-made modules in order to provide the best possible calming experience. The Washington State based vein clinic also notes that the VR system is an ideal alternative for patients who wish to reduce their anxiety and discomfort but prefer to avoid additional medications, or those who may have concerns about the overall feelings of discomfort or anxiety during procedures. Northwest Vein & Aesthetic Center is the first and currently the only medical practice to offer Virtual Reality in the Pacific Northwest.
Northwest Vein & Aesthetic Center is a medical practice located in the Seattle-Tacoma metropolitan area founded and led by board-certified vascular surgeons. The vein practice is the leader in-office vein treatments and is the first of its kind to be founded in Washington State. They continue to innovate with Virtual Reality and other state-of-the-art vein treatment technology. For more information about Virtual Reality or Northwest Vein & Aesthetic Center, call (253) 948-4378 or visit http://nwveins.com/.