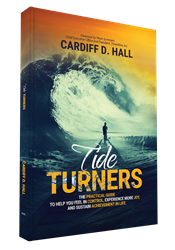 One day, all of us will realize we either drifted along in life and missed our destination or were skillful in navigating and arrived.
Minneapolis, Minn. (PRWEB) December 15, 2016
Life for the middle-aged professional with kids at home, who has reached a comfortable status in life, can seem out of control and have a feeling of: "There must be more." They are looking for change with the desire to achieve according to inspirational author, speaker and mentor Cardiff D.Hall.
In his book, "Tide Turners," Hall aims to help working professionals gain clarity, control and confidence in achieving their goals and live a life of sustained achievement. It is scheduled to be released nationally by Author Academy Elite Publishing on January 17, 2017.
"92 percent of people that set New Year's resolutions never achieve them (1) and three out of 100 adults take time to write down their goals (2)," says Hall. "The failure and lack of drafting a plan to achieve leads to frustration, lack of motivation and a feeling of being less engaged with life."
"Tide Turners" provides readers a guide for achieving, which starts with creating a vision for life and taking control of their ship called "You." With a designed path to achieve, the reader will gain clarity, confidence and experience more joy and achievement in life. The book contains personal stories and provides strategies to maneuver through the waves of life towards achievement.
With a feeling of being in control and a vision for life, it allows readers the ability to see the possibilities of the future and increases the internal fire to achieve. That sense of control brings meaning to life and fulfillment in the journey of life, Hall describes in "Tide Turners."
"I was awoken by an unplanned event which is shared in the book and I'm currently living a vision-purposed life with clarity and achievement," says Hall.
"Tide Turners" is available in paperback and hardcover, at Amazon.com and Barnes & Noble, and at http://www.CardiffDHall.com
About The Author:
Passion, enthusiasm, impact best describe Cardiff D. Hall. He is driven to help individuals achieve no matter the circumstance. He has experienced life events which have shaped his direction in life, such as failing to get into graduate school and being fired from a corporate job. He is intentional about his mission in life and looks at each experience as a growth opportunity.
He is at the beginning of a new career and looking forward to the future. He is a father, husband and leader.
Learn more about Hall and his message by downloading the "Tide Tuners" press kit here http://bit.ly/2hcHSRn
Contact:
Cardiff D. Hall
(612) 594-2550
e: cardiff(at)cardiff(dot)com
___________________________
(1) University of Scranton, Journal of Clinical Psychology, author- Inc. http://www.inc.com/marcel-schwantes/science-says-92-percent-of-people-dont-achieve-goals-heres-how-the-other-8-perce.html
(2) Gold Band Success System http://www.goalband.co.uk/goal-achievement-facts.html