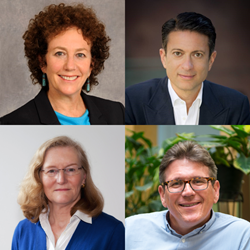 New York, NY (PRWEB) December 12, 2016
Cornerstone Capital Group is pleased to announce the appointment of three new members to our Board of Directors: Ibrahim AlHusseini, Founder, The Husseini Group; Candice Eggerss, Managing Director, Firelake Capital; and Jostein Solheim, CEO, Ben and Jerry's Homemade, Inc. The appointments are effective December 1, 2016. Further, we are delighted to announce the appointment of founding Board member Judith Albert as the new Board Chair.
Ibrahim AlHusseini is the Founder and Managing Partner of The Husseini Group LLC, a firm dedicated to facilitating, financing and guiding ventures that embrace social enhancement and ecological sustainability. He is also a venture capitalist and philanthropist dedicated to advancing social change in the world and in societies that adversely impact women and girls. He has spent much of his career as a sustainability-focused entrepreneur, with significant experience in operations, sales, and finance.
Candice Eggerss has been a Managing Director at Firelake Capital Management since 2003. Prior to 2003, Candice was a partner in technology hedge fund Camelot Capital, a Vice President at J.P. Morgan Investment Management, and held various roles as analyst and research director as a partner at Weiss, Peck and Greer and as a managing director at Equitable Capital. Candice has investment expertise in information technology, cleantech, energy, telecommunications, and transportation.
Jostein Solheim has been CEO of Ben & Jerry's Homemade Inc. for the past seven years, having amassed two decades of business experience at parent company Unilever. Jostein's role balances the goals of the company in terms of manufacturing, distribution and finance with Ben & Jerry's longstanding ethos of social justice and progressive, values-led business.
These new Board members step in as the following founding Board members step off after supporting the company from inception: Michael Baldinger, Head of Sustainable & Impact Investing, UBS Asset Management, Eric Guichard, Founder & CEO of Homestrings and Chairman & CEO, GRAVITAS Capital Advisors; and Cheryl Smith, Managing Partner, Trillium Asset Management.
"We sincerely thank Michael, Eric and Cheryl for their tireless service to Cornerstone Capital Group's shareholders and clients," said Erika Karp, Founder & CEO.
About Cornerstone Capital Group
Founded in 2013, Cornerstone Capital Inc. is a rapidly growing financial services firm based in New York. The mission of the firm is to apply the principles of sustainable finance across the capital markets enhancing investment processes through transparency and collaboration. In offering investment advisory and corporate advisory services, Cornerstone works with asset owners, corporations and financial institutions, promoting new research in the field of Environmental, Social and Governance (ESG) analysis, and facilitating capital introductions for organizations around the world engaged in sustainable business practices.
Cornerstone's Board of Directors, Global Advisory Council and Staff partner with organizations including the World Economic Forum, the Clinton Global Initiative, the Sustainability Accounting Standards Board, the UN Global Compact and the Principles for Responsible Investment to work towards a more regenerative and inclusive form of capitalism.
Cornerstone Capital Inc. is certified as a women owned business and is an investment advisor registered with the Securities and Exchange Commission.