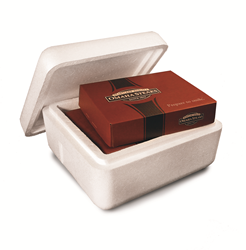 Food gifts provide an occasion, a reason to celebrate and gather together, which is what Omaha Steaks is all about.
Omaha, Neb. (PRWEB) December 12, 2016
Omaha Steaks announced today their last-minute shipping deadlines for holiday meals and gift orders to arrive in time for the holidays.
According to the National Retail Federation (NRF), almost 20 percent of consumers wait until December to begin their holiday shopping, and with only a few weeks left before the holidays, retailers like Omaha Steaks are encouraging customers to place orders before Dec. 19 in order to guarantee delivery before Christmas. Orders can be placed later with additional charges on Dec. 21 for second day air or even overnight delivery on Dec. 22. In response to consumer demand Omaha Steaks retail stores will also offer extended hours beginning Dec. 11 through Dec. 23, remaining open until 8 p.m. every day including Saturdays and Sundays, and 8 a.m. to 5 p.m. on Christmas Eve.
With the NRF reporting that 56.6 percent of consumers are choosing to shop online this season – its highest level ever – and with their estimation that holiday sales will increase 3.6 percent compared to last year, companies like Omaha Steaks have prepared themselves to handle the last-minute rush.
"At Omaha Steaks, we've hired additional staff to assist customers with their holiday orders and give them an enjoyable holiday shopping experience," said Omaha Steaks Senior Vice President and Family Owner Todd Simon. "Our customers can now send gifts straight from their iPhone with the new Omaha Steaks app, which makes holiday gifting even easier."
The NRF also reports that food gifts are one of the top gift choices to give during the holidays. "Food gifts provide an occasion, a reason to celebrate and gather together, which is what Omaha Steaks is all about," Simon added.
The variety of gift packages available, the direct delivery and the ease of shopping by phone, online, or in one of the 70-plus Omaha Steaks stores nationwide, continues to make Omaha Steaks popular with holiday shoppers nationwide.
For more information about Omaha Steaks holiday gifts and meal options visit http://www.OmahaSteaks.com.
About Omaha Steaks
Founded in 1917, Omaha Steaks is a fifth-generation, family-owned company known nationwide for the finest in USDA-approved, grain fed beef and gourmet foods. Today, Omaha Steaks is recognized as the nation's largest direct response marketer of beef and gourmet foods available through multiple marketing channels including by phone at 1-800-228-9055, online at http://www.OmahaSteaks.com or at retail stores nationwide.
###